Canada Express Entry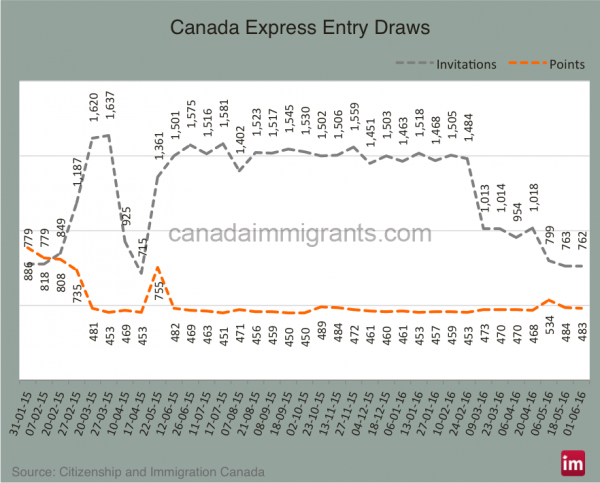 Since January 2015, Citizenship and Immigration Canada/Immigration, Refugees and Citizenship Canada (CIC/IRCC) has conducted 35 draws issuing 44,824 invitations to candidates who applied for permanent residence through Express Entry.




Before launching Express Entry, the Conservative government assured that this system would be fast, flexible and responsive to the labour market. In fact, the expectation was that CIC would meet its "economic immigration target" through this system. However, after the first outcomes, CIC softened its expectations and pointed out that the full implementation of this new system would take a couple of years, so most economic immigrants will be selected through the old procedure to meet the 2015 target (169,000 – 185,200 principal applicants and dependants). Thus, what happened to the initial claims? How fast, flexible and responsive is Express Entry to the labour market?
In terms of promptness, CIC claims that Express Entry processing time is about six months or less, so it is considered faster than the "old" system, which processed and application in 12-14 months. Nevertheless, it has been reported that most invitations were sent to 22,111 candidates who had applied to different programs and were already in Canada (78.1% of the total), impacting "favourably" processing times. How long will it be sustained?
When it comes to a system that has been defined as "flexible and responsive" to the labour market needs, key issues emerge. First, the points required to issue an invitation have been lowered from the first draw (776 points) to the lowest level of 450 points. What does that possibly mean? Is CIC accepting applicants with lower education or language levels? If so, what kinds of jobs are they filling?
Second, is CIC sending invitations to candidates with no job offer or Labour Market Impact Assessment (LMIA)? Yes, CIC reported that a total of 31,063 invitations were issued as of January 3rd 2015, and 40% of those invitations were sent to individuals (12,493) with no job offer or provincial nomination. So, how is the system responding to the labour market? Where is the matchmaking between skilled, economic migrants and employers' needs? It looks like the economic tie is not that "strong" after all.
Furthermore, why is CIC urging employers and students to use Express Entry? It is true that employers and students know that in order to get an "Invitation To Apply", they need to secure a PNP certificate or a positive LMIA, so this tedious process may deter some employers. As for students, with Express Entry, now they have to compete with other skilled workers when seeking permanent residence. However, it is also true that before Express Entry started, employers alleged that there were severe skill shortages in almost all industries across Canada. Now, either the economy has collapsed or the skill shortages suddenly disappeared, but the weak response from employers to Express Entry and their enthusiasm for the expansion of the Temporary Foreign Worker Program and the International Mobility Program may be a more accurate indicator of their actual labour needs in Canada: a segmented labour market with precarious employment rising fast.
Sources:
http://www.cic.gc.ca/english/department/mi/
http://www.cic.gc.ca/english/resources/reports/ee-year-end-2015.asp