Ontario International Students by Country (2015)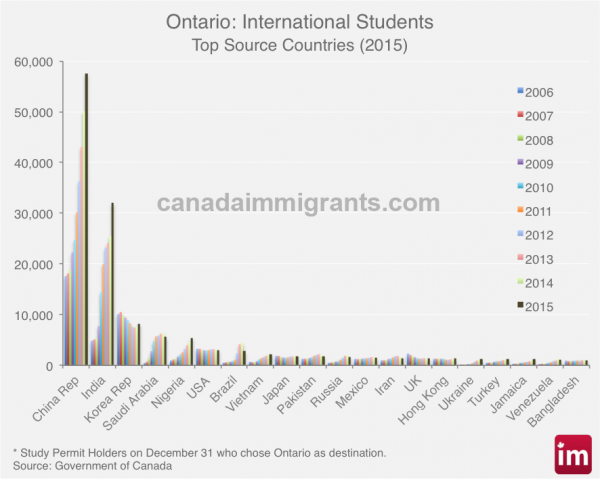 On December 31st 2015, 152,980 international students were present in Ontario* –an increase of 138% compared with December 31st 2006.
In 2015, international students came to Ontario from more than 172 countries. The top three source countries** were China (57,570), India (32,080) and South Korea (8,215) and together accounted for 64% of the total of the international students in the province.




Among the top 20 source countries of international students to Ontario, the number of students from Saudi Arabia increased the most (1074%) from 480 in 2006 to 5,635 in 2015, followed by Ukraine (603%) from 185 to 1,300 and India (557%) from 4,880 to 32,080 respectively.
Among these 20 top source countries, the following registered the highest decreases: United Kingdom and Colonies (42%) from 2,315 students in 2006 to 1,350 in 2015, followed by South Korea (19%) from 10,125 to 8,215, and USA (8%) from 3,265 to 3,010 respectively.
The economic benefits that this immigration class brings to Canada are remarkable.
In 2015, Global Affairs Canada reported that international students in Ontario provide immediate and significant economic benefits to Canada. Data for 2012 show that 111,171 international students spent a total of some $3,500,000,000 across Ontario, helping sustain 29,970 Canadian jobs.
* Province of destination
** 2015 ranking
Source: