Ontario Public Servants – Top Salaries (2016)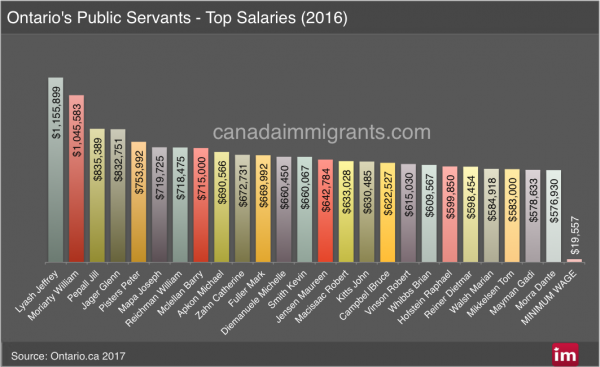 Ontario Public Servants –Top Annual Salaries (2016)
In 2016, according to the Ontario's Public Sector Salary Disclosure, there were 124,103 employees paid $100,000 or more pear year.
Jeffrey Lyash (Ontario Power Generation) had the highest annual salary of $1,155,899 or 59 minimum wages; followed by William Moriarty from Universities ($1,045,583 or 53 minimum wages) and Jill Pepall from Crown Agencies ($835,389 or 43 minimum wages).




In 2016, the top 25 salaries were reported in four major sectors: Hospitals and Boards of Public Health concentrated the highest percentage of 52% of these generous salaries, followed by Crown Agencies (20%), Ontario Power Generation and "Other" with 12% each, and Universities (4%).
Grouping the salary data in ranges, there were 54 employees with salaries over $500,000; 768 employees paid between $300,000 and $499,999; 4,652 employees paid between $200,000 and $299,999, and 118,629 employees with salaries between $100,000 and $199,999.
Tell us what you think.
Source: