Manitoba Provincial Nominee Program
Most immigrants to Manitoba come as provincial nominees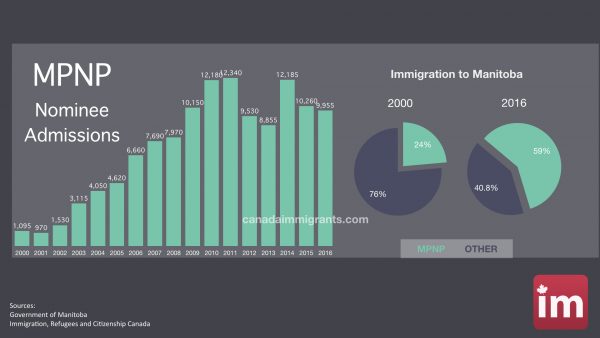 What's the Manitoba PNP
On October 22, 1996, the government of Canada and Manitoba signed the Provincial Nominee Agreement, which was introduced in 1998 with the first nominees arriving in 1999.
The Manitoba Provincial Nominee Program (MPNP) seeks skilled workers, businesspeople and their families with the intention and ability to successfully settle and economically establish in Manitoba as permanent residents.




Notes
Manitoba's PNP provides channels for two-step migration. Once a TFW has been in the province for six months, he may apply for permanent resident status.
Submitting an Expression of Interest (EOI) is the first step to immigration to Manitoba through the MPNP. If you are eligible under one of our application streams, you will be able to submit an Expression of Interest.
Application Fees
Business Stream: $2,500
Skilled Workers: $500
Current MPNP Streams
Skilled Workers
Skilled workers in Manitoba
The MPNP for Skilled Workers in Manitoba nominates applicants who have a strong connection to our province through ongoing employment and sufficient skills, education and training, work experience and official language proficiency to make an immediate and ongoing contribution to the Manitoba economy and our community at large.
Skilled workers overseas
The MPNP for Skilled Workers Overseas nominates applicants who demonstrate an established connection to Manitoba through:
the support of family members or friends;
through previous education or work experience in the province; or
through an Invitation to Apply received directly from the MPNP as part of a Strategic Recruitment Initiative.
Business
Business Investors
The Provincial Nominee Program for Business allows Manitoba to recruit and nominate qualified business people from around the world who have the intent and ability to move to Manitoba and establish, purchase a business or become partners in an existing business.
Farm Strategic Recruitment Initiative
This stream is for individuals with proven farm business experience, sufficient available capital to invest, and who intend to establish and operate a farm operation in rural Manitoba.
Sources:
Immigration, Refugees and Citizenship Canada
WATCH VIDEO – ANIMATED CHARTS