From Temporary to Permanent Residents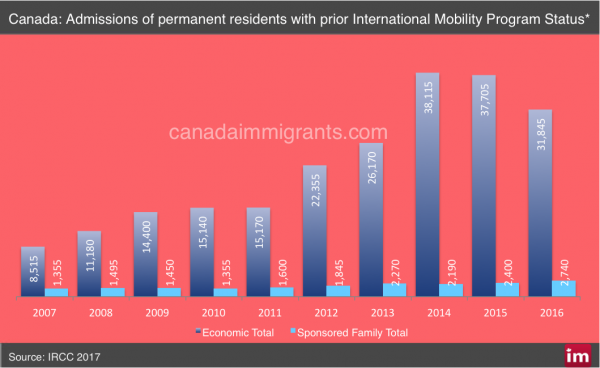 Canada: Admissions of permanent residents with prior International Mobility Program (IMP) Status
The number of IMP workers transitioned to permanent residents increased 250% from 9,880 in 2007 to 34,615 in 2017.




Since 2007, most of these workers were admitted under the economic class (between 86% to 92%). The second largest group was admitted under the sponsored family class. However, their percentage decreased from 14% in 2007 to 8% in 2016.
In 2017, 34,615 IMP workers and 6,975 temporary foreign workers were admitted as permanent residents. To better understand the criteria behind this policy and its impact on the labour market, more information is needed. Why? because IMP workers come to Canada with an open work permit and they are not subject to the selection process and requirements like other applicants coming as skilled workers. Why are they jumping the immigration queue? What kinds of jobs are they getting that make them stay here? Where do they come from?
Tell us what you think.
Source: