Immigrants in London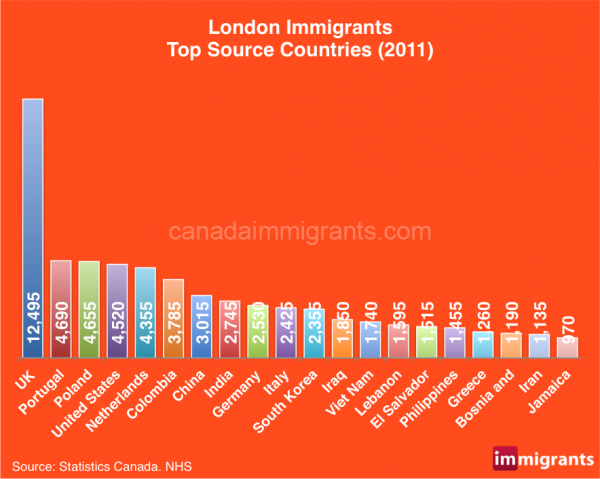 In 2011, London, Ontario (CMA) was home to the tenth largest immigrant population in Canada.
In 2011, 87,655 immigrants accounted for 19% of London's population.
In 2011, the top largest groups of immigrants were from the United Kingdom, Portugal and Poland. Other top source countries were the United States, Netherlands, Colombia, China, India, Germany and Italy; all together represented 52% of London's immigrant population.




In London, the immigrant population grew 9% from 80,410 in 2001 to 87,655 in 2011.
From 2001 to 2011, in London, among the top ten immigration source countries, China and India experienced the highest increases of 79% and 74% respectively. In contrast, the highest decreases were observed among immigrants from Germany (-25%), Italy (-23%), and Poland (-19%).
South Korea, Iraq, Viet Nam, Lebanon, El Salvador, The Philippines, Greece, Bosnia and Herzegovina, Iran and Jamaica were also in the top 20 sources of immigration to London, Ontario.
Note:
We would like to point out that we used data from the National Household Survey (NHS) knowing that its quality is still under criticism because this survey was conducted on a voluntary basis, so its validity, reliability and comparability with other instruments, such as population censuses, have become an issue. In fact, before the first release of the NHS results, Statistics Canada issued warnings and cautions when using the NHS data, so use this data cautiously.
From 2005 to 2015, London, On. was the destination of choice for 26,599 new permanent residents.
Landing Year
Total
2005
3,235
2006
2,981
2007
2,459
2008
2,334
2009
2,467
2010
2,936
2011
2,278
2012
1,867
2013
2,057
2014
2,000
2015
1,985
2005-2015
26,599
Source: Government of Canada