Immigrants in Calgary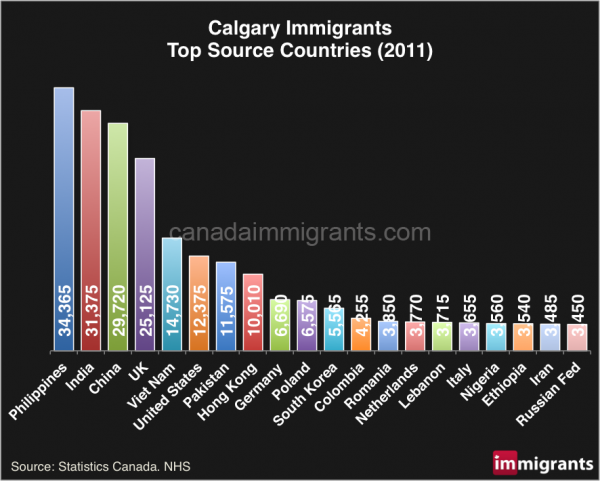 In 2011, Calgary had the fourth largest immigrant population among Canada's Census Metro Areas (CMAs).
In 2011, a total of 313,880 immigrants accounted for 26.2% of Calgary's population, and they represented 8.8% of Alberta's population.



In 2011, Filipino, Indian and Chinese were the largest immigrant groups in Calgary. Other top immigration countries were the United Kingdom, Viet Nam, United States, Pakistan, Hong Kong, Germany, Poland, South Korea, Colombia, Romania, Netherlands and Lebanon. All together represented 65% of the immigrant population in Calgary.
Italy, Nigeria, Ethiopia, Iran and Russia were also in the top 20 sources of immigration to Calgary.
In Calgary, the immigrant population grew 59% from 197,410 in 2001 to 313,880 in 2011.
From 2001 to 2011, in Calgary CMA, immigrants from the top countries that experienced the highest increases were the Philippines (182%), India (142%) and China (101%). In contrast, the highest decreases were observed among immigrants from Germany (-8%), Hong Kong (-7%) and Poland (-2%).
Note:
We would like to point out that we used data from the National Household Survey (NHS) knowing that its quality is still under criticism because this survey was conducted on a voluntary basis, so its validity, reliability and comparability with other instruments, such as population censuses, have become an issue. In fact, before the first release of the NHS results, Statistics Canada issued warnings and cautions when using the NHS data, so use this data cautiously.
From 2005 to 2015, Calgary was the destination of choice for 167,813 new permanent residents.
Landing Year
Total
2005
11,186
2006
11,823
2007
11,246
2008
13,039
2009
13,708
2010
16,106
2011
15,059
2012
16,816
2013
17,605
2014
19,540
2015
21,685
2005-2015
167,813
Source: Government of Canada