Chinese Students in Canada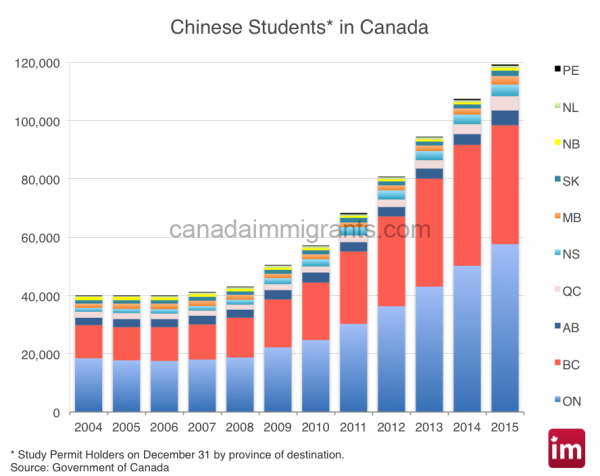 In Canada, the number of international students* increased 105% from 172,370 in 2006 to 353,262 in 2015.




During this period, international students came to Canada from more than 170 countries, and China was the top source country.
In Canada, the number of Chinese students increased 200% from 39,850 in 2004 to 119,335 in 2015.
From 2004 to 2015, most Chinese students chose Ontario (45%) and British Columbia (35%) as their province of destination -followed by Alberta (5%); Quebec (3.8%) and Nova Scotia (3.6%). Other provinces attracted all together 7.4%.
Compared to 2004, most provinces saw an increased number of Chinese students in 2015 except for New Brunswick. The top increases were registered in British Columbia (253%), Ontario (214%) and Nova Scotia (209%).
* Study Permit Holders on December 31.
Source: