Canada Temporary Foreign Workers by Country – 2016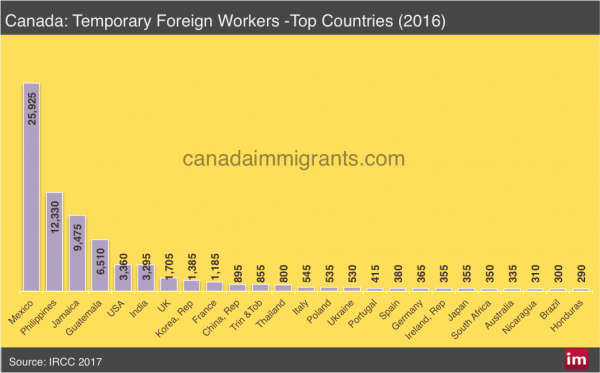 In 2016, there were 78,755 temporary foreign workers1 (TFWs) in Canada.
These workers are from more than 150 countries2. Indeed, the top ten source countries for TFWs were Mexico, the Philippines, Jamaica, Guatemala, the United States of America, India, United Kingdom and Colonies, South Korea, France and China.






In 2016, six in ten TFWs were from Mexico (33%), the Philippines (16%) and Jamaica (12%).
Over the previous year, the number of TFWs from those countries increased as follows: Mexico (13%), Jamaica (11%) and the Philippines (5%).
1 Temporary Foreign Worker Program work permit holders by program and year in which permit(s) became effective.
2 Country of Citizenship
Source:
Related articles: