Canada Immigration Targets 2017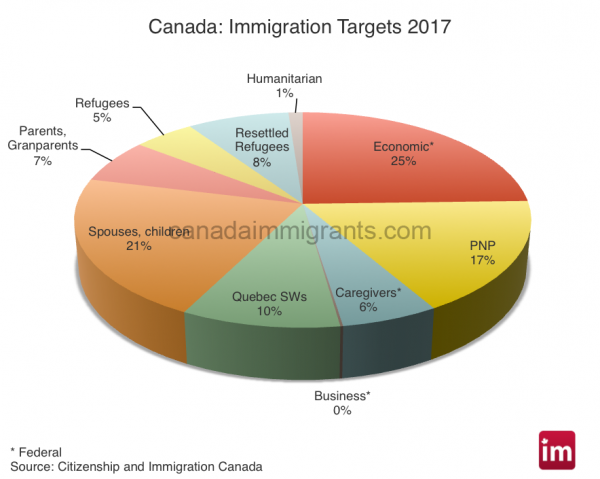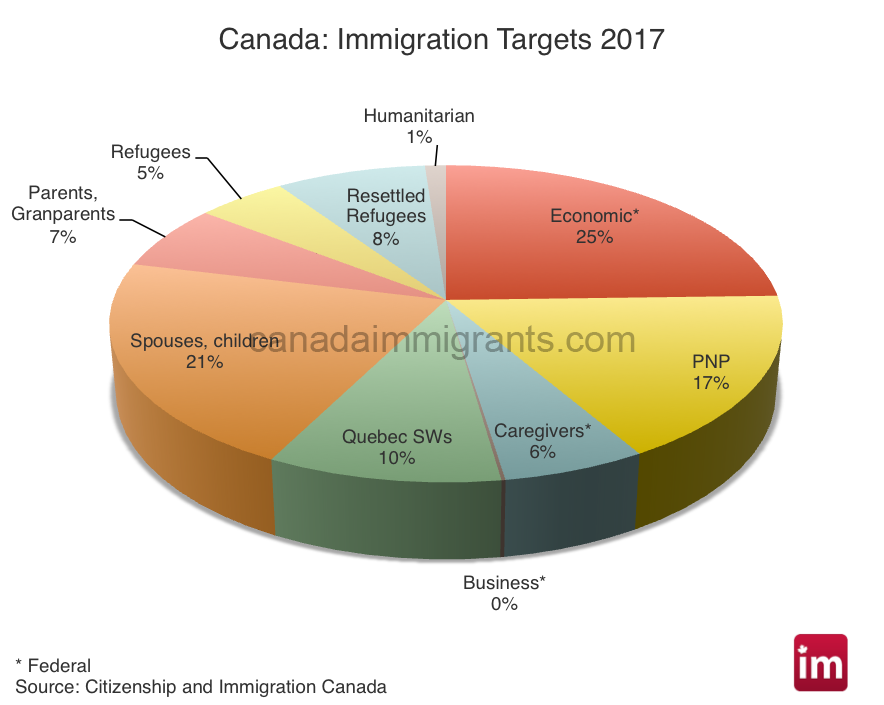 In 2017, Canada's immigration plan remains strong and aims to welcome 300,000 immigrants – "a new baseline for permanent residents admissions."




The Canadian government asserts, once again, that "Immigration plays an important role in keeping Canada competitive in a global economy," so the economic class will continue to account for the majority (57.5%) of all admissions in 2017; the family class will account for 28% and 14.5% will be admitted under the humanitarian and refugee categories.
Canada Immigration Targets 2017
Immigration Category
Target
Economic
Federal Economic
73,700
Federal Caregivers
18,000
Federal Business
500
Provincial Nominee Program
51,000
Quebec Skilled Workers and Business
29,300
Family
Spouses, Partners and Children
64,000
Parents and Grandparents
20,000
Refugees and Humanitarian
Protected Persons in Canada and Dependents Abroad
15,000
Government-Assisted
7,500
Blended Visa Office-Referred
1,500
Privately Sponsored
16,000
Humanitarian
3,500
TOTAL
300,000
Source: Citizenship and Immigration Canada
Interestingly enough, according to Immigration Refugees and Citizenship Canada (IRCC), "the approach to the 2017 levels plan was guided by feedback from Canadians gathered over the summer months and from provinces and territories." Once again, what we have here is the fact that immigration levels are not based on sound economic evidence, so thousands of highly skilled immigrants will be affected negatively. Why? Because these targets are not related to actual job opportunities in Canada.
Canada's benefits will be limited since there is no plan to fully integrate highly skilled immigrants into the labour market. Will the government tell them that precarious employment is a fact of life in Canada?
Related articles:
Canada's Immigration Targets 2016