Canada's Aging Population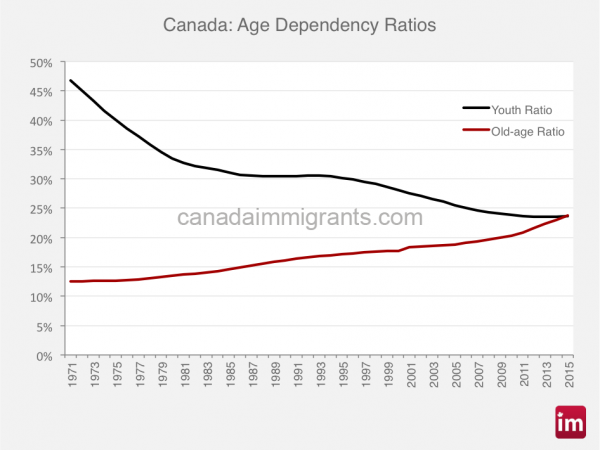 In Canada, the number of seniors aged 65 years and over increased 235% -from 1,724,460 in 1971 to 5,780,926 in 2015; accounted for 7.9% and 16.1% of the total population respectively. During the same period, the number of children aged 0 to 14 years decreased 11.9% from 6,433,266 to 5,749,396, which accounted for 29.3% of the total population in 1971 and 16.0% in 2015. In other words, Canada has more seniors than kids.
From 1971 to 2015, the youth dependency ratio decreased from 46.7% to 23.6%, while the old dependency ratio increased from 12.5% to 23.8%. 
According to the World Bank, in 2014, Canada's old-age dependency ratio of 23.8% ranked as the 30th highest ratio out of 195 countries reviewed. The old-age dependency ratio in New Zealand was 22.9%, in Australia (22.7%) and in the USA (22.3%).




The highest ratios were observed in Japan (43.3), Italy (35.1%), Greece (33.4%), Finland (32.4%), Germany (32.2%), Portugal (31.9%), Sweden (31.8%), France (30.6%), Bulgaria (30.4%) and Denmark (29.6%).
In the past 40 years, most European and American countries experienced increases in their old-age dependency ratios while most American countries had registered higher youth dependency ratios, triggering natural population growth.
So far, countries with high old-age dependency ratios have responded differently to the challenges that this demographic shift poses. Some countries, including Canada, have boosted immigration levels, have increased the age of retirement, and decidedly have tried to modify the pension system. Yet, only few countries have addressed this issue from a more comprehensive approach that includes measures to promote and support increased fertility levels; to improve productivity and technological development, and to promote economic and social mobility.
Sources: