Business Immigration to Canada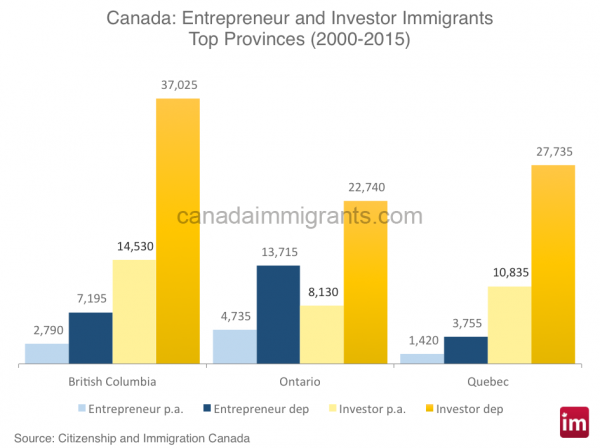 From 2000 to 2015, a total of 161,144* people moved to Canada under the entrepreneur1, investor2 and Start-up3 programs (including Quebec).
The largest percentage were spouses and dependants (72.6%) and principal applicants accounted for 27.4%.




Most of these immigrants (96%) picked three provinces as their destination: British Columbia (61,540 or 38.3%), Ontario (49,320 or 30.7%) and Quebec (43,745 or 27.2%). And about 4% chose Alberta (3,800), Nova Scotia (1,710), Manitoba (250) and Saskatchewan (240).
In the past two years, 50 people (20 principal applicants and 30 spouses and dependants) came under the Start-up program.
Business immigrants who came under provincial nominee programs are not included into the total.
Notes:
1 The Entrepreneur Program was "suspended" on July 1, 2011, when a temporary moratorium on new applications was placed on this program. Applicants under this program needed a minimum personal network of $300,000.
2 The Immigrant Investor Program was launched in 1986, but the government stopped accepting applications from foreign investors in 2012. However, Quebec still admits foreign investors under the Quebec Immigrant Investor Program (QIIP).
3 Citizenship and Immigration Canada (CIC) launched the Start-Up Visa Program on April 1, 2013. The Start-Up Visa Program is a five-year pilot program that is designed to attract innovative foreign entrepreneurs.
The minimum investment that applicants need for a Start-up visa:
must secure a minimum investment of $200,000 if the investment comes from a designated Canadian venture capital fund.
must secure a minimum investment of $75,000 if the investment comes from a designated Canadian angel investor group.
do not need to secure any investment from a business incubator. However, you must be accepted into a Canadian business incubator program.
* Preliminary data retrieved in March 2016.
Source:
http://www.cic.gc.ca/english/helpcentre/answer.asp?qnum=653&top=6