7.5 Million Immigrants in Canada
Immigrants make up 21.9% 0f Canada's population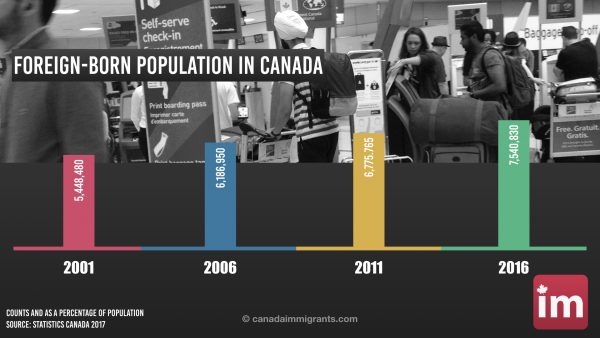 Statistics Canada reported that in 2016, there were 7,540,830 foreign-born people living in Canada, which accounted for 21.9% of Canada's population.




In Canada, the percentage of foreign-born population increased from 19.6% in 2006 to 21.9% in 2016.
In 2016, three provinces concentrated 82.7% of Canada's foreign-population: Ontario (51.1%) British Columbia (17.1%), and Quebec (14.5%).
In 2016, the provinces with the highest proportions of foreign-born people were Ontario (29.1%), British Columbia (28.3%) and Alberta (21.2%).
From 2006 to 2016, the foreign-born population in Saskatchewan, Nunavut and Prince Edward Island registered the highest growth.
IMMIGRANTS IN CANADA – ANIMATED CHARTS

More from the 2016 Census: