Advertise on CanadaImmigrants.com
We are happy to spread the word about your products and services. Indeed, at The Canadian Magazine of Immigration, we not only want you to be happy with our services, we also want to build a long-lasting relationship with you.
Website Advertising
In order to help you, please select the ad types, sizes, positions and prices that best fit your products or services. We handle requests on a first-come, first-served basis.
Type
Size
Position*
Price/month
Rectangle
300 x 50 pixels
A
$200
Rectangle
300 x 250 pixels
A
$240
Rectangle
300 x 50 pixels
B
$180
Rectangle
300 x 250 pixels
B
$220
*See the image below
Ads will be on posts only (excludes home page and categories)
Our advertising guidelines aim to deliver the best user experience, so you can rest assured that your ads will be in front of a highly qualified audience and will not disrupt the browsing experience.
Ad positions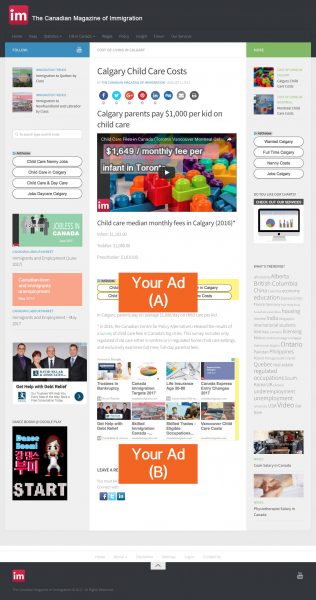 Social Media Advertising
Promote your business on our channel. Yes, you heard it. We are now offering ad services on our Youtube Channel. Once your ad is approved, it will be displayed on the next available video. These ads have no expiration date. Please contact us for more details.
Advertising Policies
Prohibited Content
Counterfeit products
Dangerous products or services
Enabling dishonest behaviour
Adult content
Alcohol, drugs and prescription drugs
Gambling-related content
Hatred; violence; harassment; racism; sexual, religious, or political intolerance, or organizations with such views
Content that's likely to shock or disgust
Content that's exploitative or appears to unfairly capitalize at the expense of others
Promoting content that contains malware
Asking for personal or financial information
Promotions that represent you, your products, or your services in a way that is not accurate, realistic, and truthful
Promotion of political parties or candidates, political issue advocacy
Promotion of financial services and products that do not comply with all regulations
Overly generic ads that contain vague phrases such as "Buy products here"
Ad Approvals
Your ad will be reviewed within one business day.
If you have any further questions or requests, please Contact Us we will be glad to assist you.
We would be very pleased to do business with you.
Thank you for your interest in advertising on CanadaImmigrants.com!