Largest Cities in Canada -2015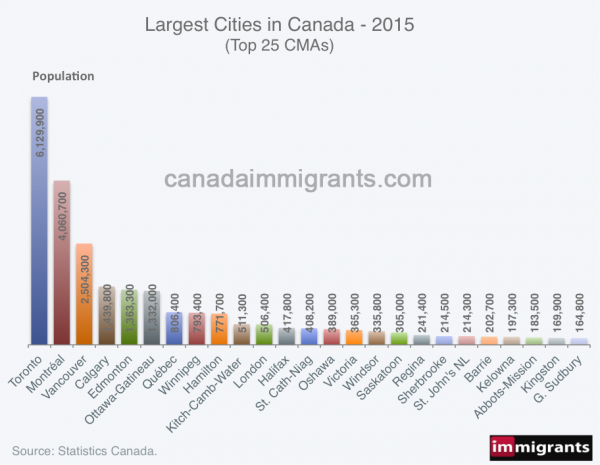 Based on the 2011 Census, Statistics Canada estimates that eight out of ten people in Canada resided in urban areas.
In 2015, the top ten most populated cities1 in Canada were Toronto, Montreal, Vancouver, Calgary, Edmonton, Ottawa-Gatineau, Quebec, Winnipeg, Hamilton and Kitchener-Cambridge-Waterloo.
In 2015, Statistics Canada estimated that 35,848,610 lived in Canada, which means that about 50% of the population resided in six cities1: Toronto (17.1%), Montreal (11.3%), Vancouver (7%), Calgary (4%), Edmonton (3.8%) and Ottawa-Gatineau (3.7%).




In 2015, each of these top six cities1 had more than a million people.
1 Census Metropolitan Areas (CMAs)
Source:
*UPDATE
Check out the latest information on Largest Cities in Canada 2016 based on the 2016 Census data released on February 8, 2017.