Canada Temporary Foreign Workers – 2016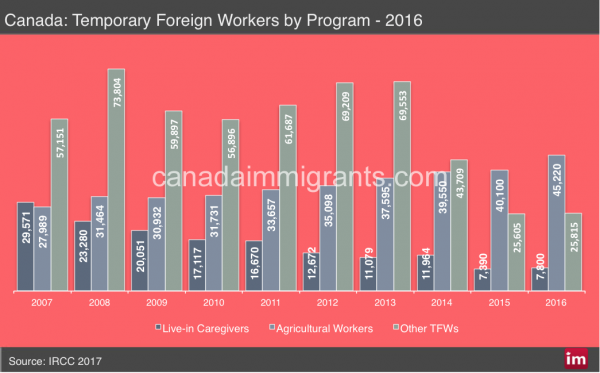 In Canada, there were 78,755 temporary foreign workers* (TFWs) in 2016.




In 2016, the Temporary Foreign Worker Program was composed as follows: agricultural workers comprised (57%), other (33%) and live-in caregivers (10%).
The number of TFWs decreased 31% from 114,626 in 2007 to 78,755 in 2016. During this period, the highest number of TFWs (128,384) was reported in 2008 and the lowest (73,055) in 2015.
Over the same period, the number of live-in caregivers decreased 74% and other also decreased by 55% while the number of agricultural workers increased by 62%.
* Temporary Foreign Worker Program work permit holders by program and year in which permit(s) became effective.
Source: