Canada International Students by Study Level – 2016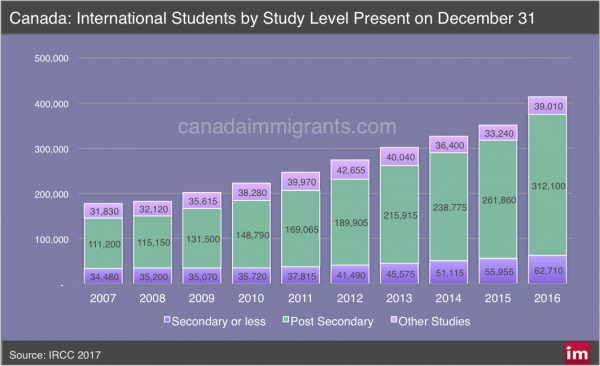 International Students by Study Level – 2016
On December 31, 2016, 414,285 international students (study permit holders) were present in Canada –an increase of 18% compared to the previous year.
In 2016, the largest percentage of international students (75%) enrolled in postsecondary education institution in Canada. Students enrolled in secondary level or less accounted for 15%, and 9% in other level.




International students in postsecondary education increased 181% from 11,200 in 2007 to 312,100 in 2016.
According to Global Affairs Canada1, here are some of the financial benefits that international students bring to Canada.
Of the annual total spending by international students, long-term international students accounted for 92%. International education services for these long-term students contributed $8.6 billion worth of GDP of the Canadian economy, and supported 113,100 jobs (equivalent to 95,900 full-time employment).
International students in short-term language training programs in Canada contributed an additional $919.4 million per year in total spending to the Canadian economy. This represents about $697.8 million contribution to GDP, and supporting 8,100 jobs (or equivalent to 5,900 full-time employment).
Related articles:
International Students by Province – 2016
International Students by Country – 2016