Toronto CMA Population 2016 – Toronto, Mississauga, Brampton, Markham, Vaughan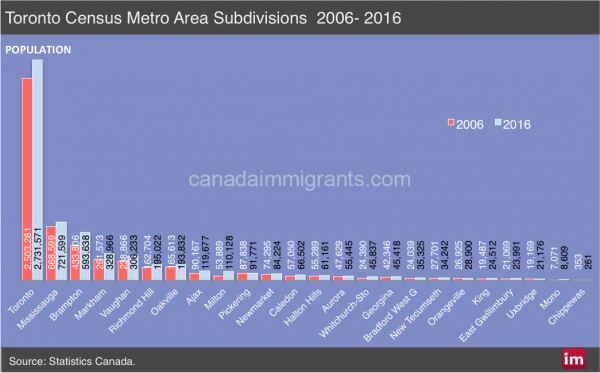 According to the 2016 Census, Canada's population reached 35,151,728 –an increase of 3,538,738 people over 2006.




In 2016, 5,928,040 or 16.9% of Canada's population resided in the Toronto Census Metropolitan Area (CMA).
The Toronto CMA is composed by five cities (Toronto, Mississauga, Brampton, Vaughan and Pickering), 16 towns, two townships, and an Indian reserve.
In 2016, among the Toronto CMA subdivisions, the city of Toronto concentrated the highest percentage of population (46.1%), followed by Mississauga (12.2%), Brampton (10%), Markham (5.5%) and Vaughan (5.2%).
Over the last decade, Toronto's (CMA) population increased 1.6% per year. Moreover, the subdivisions that registered the highest annual population growth were Milton (10.4%), Whitchurch-Stouffville (8.8%), Bradford West Gwillimbury (4.7%), Brampton (3.7%) and Ajax (3.3%).