Temporary Foreign Workers in Canada (2015)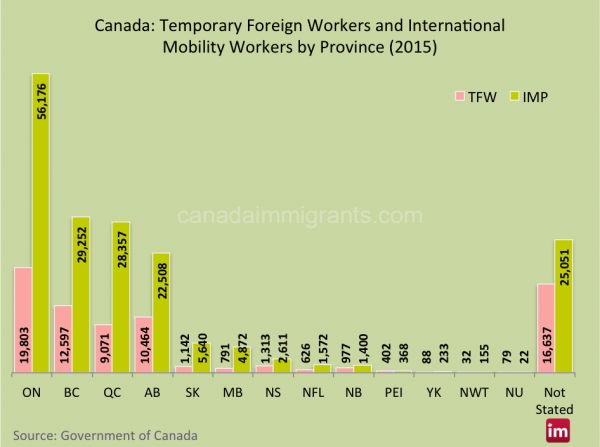 In 2015, there were 73,222 temporary foreign workers (TFW) work permit holders and 177,447 International Mobility (IMP) work permit holders in Canada. In other words, there were 2.4 IMPs for every TFW.



In 2015, Ontario (27%), British Columbia (17%) and Alberta (14.3%) were the top destinations for TFW work permit holders.
The same year, Ontario was also the top destination for IMP work permit holders (31.7%), followed by British Columbia (16.5%) and Quebec (16%).
Temporary Foreign Workers: Top Countries of Citizenship
Mexico
22,983
Philippines
11,758
Jamaica
8,567
Guatemala
5,676
United States of America
5,483
India
1,970
United Kingdom and Colonies
1,853
France
1,398
Korea, Republic of
881
Trinidad and Tobago, Rep
794
Other
11,859
Total
73,222
Source: Government of Canada
International Mobility Workers: Top Countries of Citizenship
United States of America
27,653
India
20,821
France
18,332
China, People's Republic of
15,329
Australia
9,499
United Kingdom and Colonies
8,880
Korea, Republic of
7,619
Japan
6,811
Philippines
5,910
Ireland, Republic of
5,779
Other
50,814
Total
177,447
Source: Government of Canada
Notes:
According to Citizenship and Immigration Canada, a large number of TFW an IMP work permit holders did not state their destination (22.7% and 14.1% respectively). A better data collection will certainly yield a more accurate picture of the situation across Canada.
The majority of permit holders who fall under this category are exempt from requiring a Labour Market Impact Assessment but no specified exemption code.