Taiwanese Immigrants to Canada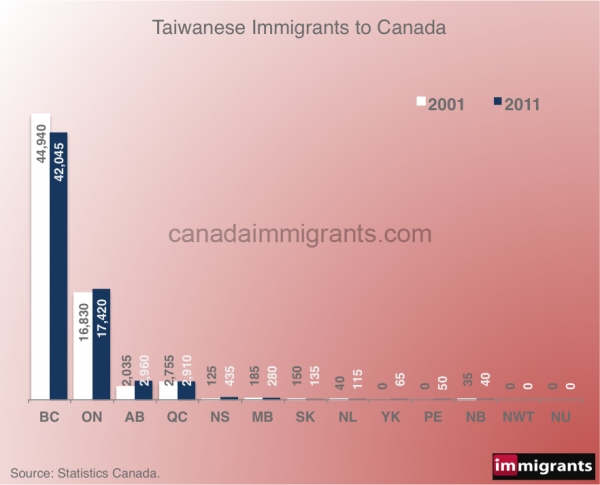 In 2011, immigrants comprised 20.6% of Canada's population.
The number of immigrants from Taiwan decreased 1% from 67,095 in 2001 to 66,455 in 2011.




In 2011, 63.3% of Taiwanese immigrants resided in British Columbia and 26.2% in Ontario.
In 2011, Vancouver was home to 40,725 Taiwanese immigrants –the 6th largest foreign-born group in the Vancouver CMA.
Citizens from Taiwan landed in Canada in recent years
From 2006 to 2015, 18,447 new permanent residents from Taiwan landed in Canada.
Landing Year
Total
2006
2,818
2007
2,767
2008
2,993
2009
2,475
2010
2,629
2011
1,703
2012
985
2013
768
2014
692
2015
617
2006-2015
18,447
Source: Government of Canada