Religions in Canada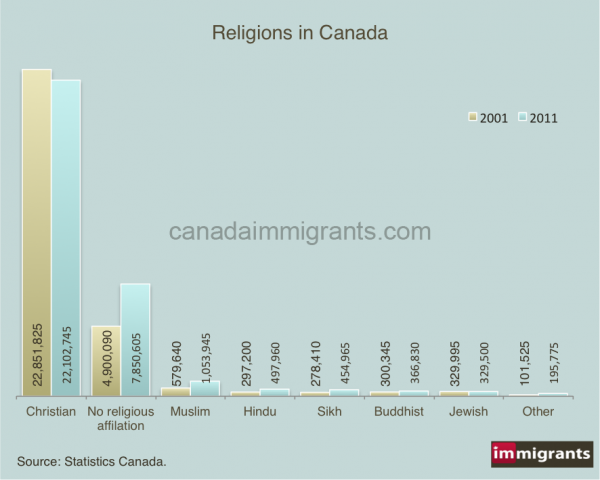 In 2011, The National Household Survey (NHS)1 reported statistics on religions in Canada, and the religious affiliation data was broken down into nine major groups:
Christian includes eight subgroups: Anglican, Baptist, Catholic (7 denominations), Christian Orthodox (13 denominations), Lutheran, Pentecostal, Presbyterian, United Church, and "Other Christian" (45 denominations)
Muslim
Hindu
Sikh
Buddhist
Jewish
Traditional (Aboriginal) Spiritual -we included it into "other", so we can compare with the 2001 data
Other religions (19 religions)
No religious affiliation
Most people in Canada are Christians, and despite the fact that the number of Christians decreased 3.3% from 2001 to 2011, they comprised 77.1% of the population in 2001 and 67.3% in 2011.




People with no religion affiliation were the second largest group. In fact, their number increased 60.2% from 4,900,090 in 2001 to 7,850,605 in 2011.
Muslims were the third largest group and they registered the largest increase (81.8%) from 579,640 in 2001 to 1,053,945 in 2011.
From 2001 to 2011, these three religions also experienced increases: Hindu (67.6%), Sikh (63.4%) and Buddhist (22.1%).
Jewish experienced a slight decrease of 0.2% during this period.
Important
1 This is the most recent data that allows us to make some "reasonable" comparisons. However, the accuracy might be questionable since the data comes from the 2011 National Household Survey. Please use it cautiously.