Refugee Claimants in Canada (2006-2015)
China, Hungary and Pakistan were the top source countries of refugee claimants in 2015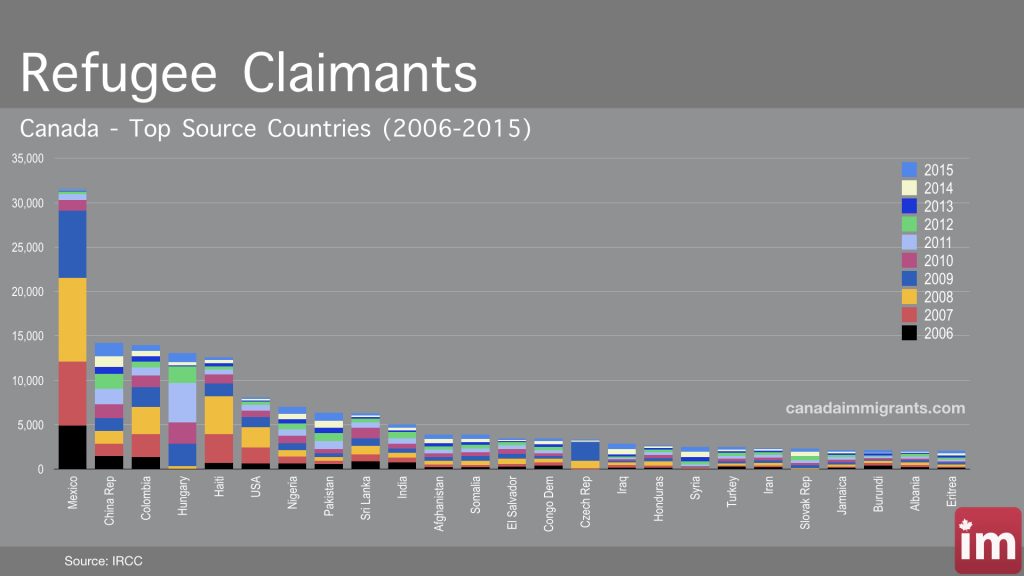 Refugee Claimants in Canada (2006-2015)
From 2006 to 2015, most refugee claimants came from Mexico, Republic of China, Colombia, Hungary, Haiti, the United States of America, Nigeria, Pakistan,  and Sri Lanka.




However, during this, the country of citizenship of the refugee claimants varies year after year. In 2015, for example, China, Hungary, Pakistan, Nigeria and Colombia were the top source countries of these claimants.
Here are the top 25 source countries of refugee claimants by year of arrival.
Refugee claimants by top 25 countries of citizenship, 2006 to 2015
2006
2007
2008
2009
2010
2011
2012
2013
2014
2015
TOTAL
Mexico
4,935
7,153
9,454
7,581
1,197
649
321
84
80
111
31,565
China Rep
1,500
1,341
1,474
1,442
1,527
1,793
1,662
771
1,190
1,498
14,198
Colombia
1,373
2,572
3,050
2,248
1,335
863
694
595
578
696
14,004
Hungary
29
23
307
2,537
2,350
4,451
1,879
96
390
986
13,048
Haiti
708
3,240
4,247
1,438
1,060
509
391
331
365
295
12,584
USA
646
1,807
2,285
1,109
770
621
388
125
163
199
8,113
Nigeria
667
743
759
767
847
677
707
469
580
794
7,010
Pakistan
609
356
387
418
516
893
862
631
770
899
6,341
Sri Lanka
859
787
1,008
817
1,170
634
412
188
197
234
6,306
India
757
540
548
478
521
642
683
211
278
377
5,035
Afghanistan
252
288
429
403
396
417
367
389
467
495
3,903
Somalia
205
244
498
527
436
427
431
287
330
505
3,890
El Salvador
276
331
595
543
523
423
356
100
152
181
3,480
Congo Dem
412
334
418
310
310
367
354
305
346
285
3,441
Czech Republic
1
109
845
2,075
30
25
27
12
110
87
3,321
Iraq
182
269
290
232
146
156
161
240
576
598
2,850
Honduras
182
239
464
362
346
332
295
148
182
131
2,681
Syria
33
69
64
87
119
176
343
488
565
577
2,521
Turkey
267
149
235
238
291
329
365
178
175
266
2,493
Iran
233
189
269
296
326
308
259
198
162
149
2,389
Slovak Rep
6
7
74
355
263
316
443
33
468
353
2,318
Jamaica
151
125
240
268
275
315
262
142
192
187
2,157
Burundi
420
275
269
131
135
170
176
195
100
265
2,136
Albania
221
233
334
219
185
216
321
111
109
126
2,075
Eritrea
156
155
222
205
147
180
225
228
254
287
2,059
SOURCE: IRCC
WATCH VIDEO – ANIMATED CHARTS