Moroccan Immigrants to Canada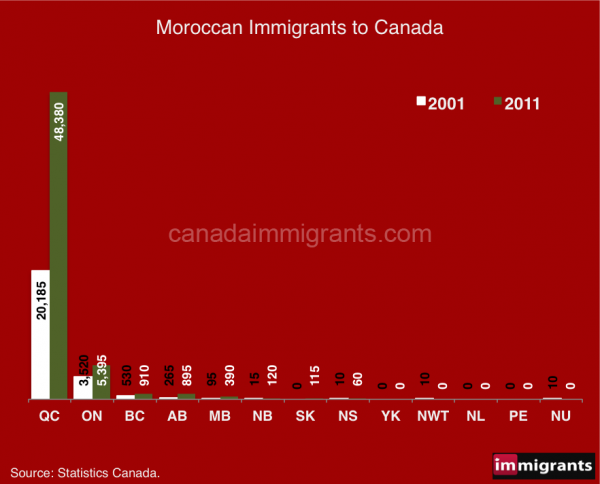 In 2011, the immigrants comprised 20.6% of Canada's population; one in five people were immigrants.
The number of immigrants from Morocco increased 128.3% from 24,645 in 2001 to 56,275 in 2011.




In 2011, 96% of Moroccan immigrants resided in Ontario and Quebec.
In 2011, Montreal was home to 43,790 Moroccans.
NOTE:
This is the most recent data that allows us to make some "reasonable" comparisons. However, the accuracy might be questionable since the data comes from the 2011 National Household Survey (NHS). Please use it cautiously.
Citizens from Morocco landed in Canada in recent years
From 2006 to 2015, 40,113 new permanent residents from Morocco landed in Canada.
Landing Year
Total
2006
3,321
2007
4,019
2008
4,225
2009
5,532
2010
6,244
2011
4,391
2012
3,878
2013
3,276
2014
2,491
2015
2,736
2006-2015
40,113
Source: Government of Canada