Indian Immigrants to Canada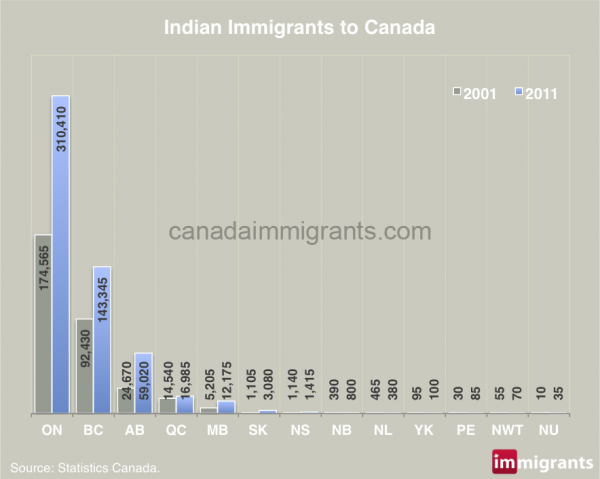 In 2011, the immigrant population comprised 20.6% of Canada"s population, so one in five people were immigrants.
In Canada, the number of immigrants from India grew 74% from 314,690 in 2001 to 547,890 in 2011, making India the top immigration source country.




Ontario was the top destination for immigrants from India concentrating 55% of them in 2001 and 57% in 2011.
In 2011, 26% of the Indian-born immigrants resided in British Columbia which has been their second top destination.
In Alberta, the number of Indian-born immigrants grew 139% from 24,670 in 2001 to 59,020 in 2011.
Citizens from India landed in Canada in recent years
From 2006 to 2015, a total of 323,746 immigrants from India landed in Canada.
Landing Year
Total
2006
33,772
2007
28,731
2008
28,257
2009
29,452
2010
34,226
2011
27,490
2012
30,920
2013
33,077
2014
38,326
2015
39,495
2006-2015
323,746
Source: Government of Canada