Forum September 2002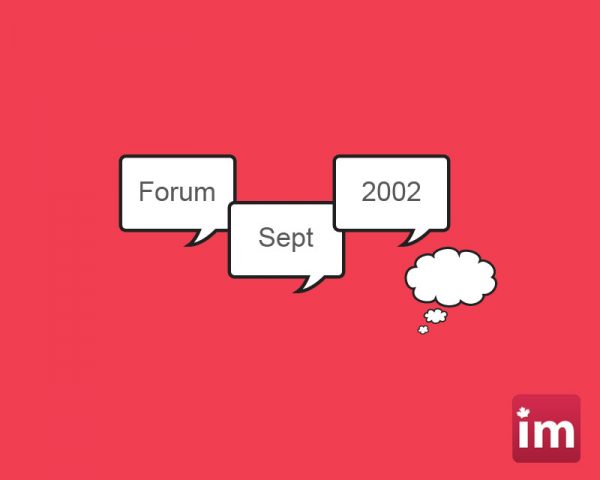 September 1 – 2002
I have a pending application for immigration with the Canadian Embassy in Manila. I am sure you are aware of the changes in Immigration procedures that came to pass on June 28th of this year. Would your office be able to help me get a job that I can present to the HRDC as a "genuine job offer"? I have a Bachelor of Arts degree in Communication Arts, and have worked as a Purchasing Officer (4 years), but I am now freelancing in the real estate and insurance business. I would accept any job available. I would be more than grateful for any help you can extend. Thank you very much.
Therry Reyes. Philippines.
September 4 – 2002
I would like to work in a nice place within a friendly environment, so I could provide good education to my children, and could have a higher standard of living -compared to the one I currently have.
I would like to work abroad in order to help other Mexicans to do the same, and look for a higher quality of life for their families. Thanks.
Jose de Jesus Oropeza Sandoval. Nuevo Leon, Mexico.
September 4 – 2002
I have worked in England as a language professor. I am working my doctoral thesis on English Literature, and I can work as English and Spanish Literature professor in a city as well as in a small town.
Jonas. Las Palmas, Spain.
September 5 – 2002
I will apply for immigration as soon as possible. I need a minimum of 75 points to qualify. I score 71 now, so I need an offer of employment. This employment must be approved by HRDC. I have enough experience and merits to work related to dental staff.
Sergio Manay, Montevideo, Uruguay.
September 5 – 2002
I studied in Medellin, Colombia. I arrived in Cali two months ago, and I am looking for a job. I have worked as a secretary too. I want very much to help my family, and to continue studying. The truth is that life is a continuous learning process, and it presents estraordinary opportunities. The better prepared we are, the bigger is the possibility to achieve them.
In Cali, and generally speaking in Colombia the wages are not very good. This situation affects us very much because the quality of life is too low for most people, while small groups have an exaggeratedly high quality of life.
Lorena Dosman Martinez. Cali, Colombia.
September 5 – 2002
I would like to work in a place where people have a true interest to treat polluted water in Canada.
Felipe Figueroa Mendoza. Mexico City.
September 12 – 2002
Hello Georgina!
I am delighted to come across your website. I am a new immigrant in Canada from the Czech Republic. You'd think I am White. No way. I am a Black man. I was shocked to learn that there is systemic racism in Canada in terms of finding the right job for the visible immigrants. I have an Engineering background from Europe and I do hope to find a better future in the country of Maple leaves.
Alain. Canada.
September 13 – 2002
I just want to tell you that the job wanted page is very good. I hope someone offer me a job opportunity in Canada because I am sure that it gives an opportunity to live better -with dignity. Thanks, and I congratulate you for giving this chance to the people who really need to work and want to earn their wages honestly.
Flavio Antonio Sanchez Torres. Coatepec, Veracruz, Mexico.
September 13 – 2002
One of my desires is to travel to Canada and to work there because Canada has appeared constantly in my life for almost 10 years. Why is that? I don't know, but I am sure that I have to be there -probably for a long time. That's why I am looking to go to Canada with a secure job offer. If this possibility is in your hands, I will appreciate your help.
P.S. Dreaming is worthwhile.
J. Paz Pablo Rivero Hernandez. Ozumbilla, Edo. de Mexico.
September 15 – 2002
I would like to work in Canada because it is a country that provides the necessary conditions to professional people, like me, for development without being worried about insecurity, cultural underdevelopment, or racism. We are not Mexicans, Europeans, Central Americans, Asians, Africans… we are all inhabitants of the Earth.
Adriano Alejandro Santana Ornelas. Guadalajara, Jalisco, Mexico.
September 15 – 2002
I have got the landing paper of Canada, and I will land before next April, so I hope some prospective employer can find me and provide a suitable job for me. Thank you.
Xiaolin Hu. China.
September 17 – 2002
Canada is asking for more immigrants but its not providing opportunities or helping in any way to new immigrants. Canada should get uneducated labour from other countries not educated skilled workers because it does not have enough opportunities. Long delays are seen in Government departments and too much money asked. Otherwise nice and clean environment.
Rajdeep. Brampton, Ontario.
September 17 – 2002
I never got any job interview -It has been more than a year.
Shieni. Calgary, Alberta, Canada.
September 19 – 2002
Hi,
Currently I am on sick leave from my job. I became ill after prolonged acts of discrimination at my job. This discrimination manifested itself in the form of abuse, humiliation, degradation and outright acts of fraud committed against me by my employer which incidentally is expected to know better. There can be no other example provable and worse than mine. The saddest part is that I am supposedly unionized but I'd be better off without that union. The union sat down and facilitated the situation to get from worse to worst. My "supervisor" has openly harassed me daily and the union rep had the nerve to tell me nobody can tell her how to run a department despite her flagrantly committing breaches of various union agreements. I have even been stalked and I know of at least one other person who suffered stalking. I could go on and on but here are some blatant acts committed against me: 1. The Human Resources Consultant let me know, in the presence of the union rep that the job posting does not count, it is what I signed when I came on. She is yet to show me what I signed when I came on. 2. My " supervisor" got the said Human Resources consultant" to demote me and to transfer my duties to her profile in order to give her a super promotion. They even have the nerve to be now calling me a line worker. They have taken to stand over me constantly watching what I do and I have to report daily on whether I lifted three sheets of paper, answered one two or three calls. It has been horrible! 3. I am made to stand and wait every morning on a sick power hunting woman calling herself the boss and often times she has others come and look at me and snicker. They get some sick thrill out of this. They seem to think that would cut me down to size. 4. I am officially a level II administrative person but I found out every core competence expected of me was stated as level I. That is so blatantly fraudulent but nobody does anything about it. 5. I am forced to do what I view in my mind as to sexually assault those I supervise including young men younger than my son. 6. They have taken to throwing things on the floor and order me to pick them up. When I refuse they harass, terrorize and threaten me with firing or otherwise make negative documentation on my employee file. 7. Recently I found out that part of the reason for desperately trying to discredit me was so that a group of them could act in conceit to commit a masterful act of intellectual property theft by stealing an idea I brought to them and claiming it to be theirs. I could go on and on. I am not the only one in my family who has suffered discrimination in hiring practices in Alberta. My son holds aircraft maintenance qualifications obtained right here in Alberta and cannot get a job here. Not too long ago a top airline in Calgary posted jobs for nine positions. His school immediately informed him about it and he applied and was called in for an interview almost immediately. The airline took an about turn in their attitude when they saw that he as black. They even called for his references then posted him to file 13.
Rhona A. Calgary, Alberta, Canada.
September 23 – 2002
First of all I thank you for the creation of spaces like this one where one is able to express and to share points of view. Yesterday I read in The Star an article about an immigrant from India -and it seems to me that being published in that prestigious newspaper shows that it is not an isolated case. On the contrary is a very general way to present what happens to the professionals who emigrated to Canada. For those who did not have the opportunity to read this article, it is about a a family who emigrated to Canada and they want to return to India because they have not found a job, and they haven't got a suitable job and the standard of life they had in their country. Additionally it shows clearly as the employers have taken advantage of these circumstances. It is evident that there are no opportunities for professionals, the opportunities are for other kinds of workers. This situation put into question the requirements to get a permanent visa and the Canadian work culture -as a different one from all the others.
Anyway, despite this situation I applied for a Canadian visa a year ago. I think the important thing is to have opportunities and a positive attitude to get them. In my country there are no opportunities, so among the few opportunities we have there is the one that Canada offers.
Luhealpi, Bogota, Colombia.
September 23 – 2002
My objective in Canada is to work, to raise my family, and to assimilate the "Canadian way of life". I want to contribute and to take advantage of the advanced and civilized society, stable economy, and safety that I miss so much in my country.
Vinicius Santos. Rio de Janeiro, Brazil.
September 23 – 2002
There is too much unemployment in my country, and the available jobs are given either by nepotism or friendship. Who doesn't follow those ways, does not have any opportunity of development. That's why I want to work in your country. It is well known by its high standard of life.
Edgar Alejandro Casillas Montes. Guadalajara, Mexico.
September 24 – 2002
The importance of finding a satisfying job is fundamental to my own development, so I could do my best.
Israel Moreno Acosta. Estado de Mexico.
September 24 – 2002
I would like to work as a professor either in a elementary or secondary school. I am a Mathematics professor. My wife is a pedagogue and a Mathematics professor. One of the main reasons to move to Canada is that our kids -One is 10, the other is 8 years old, learn English and French languages.
Pedro Jose Hernandez Tejeda. Xalapa, Veracruz, Mexico.
September 25 – 2002
I am interested in working in Canada because it is ranked as the best country to live in. Moreover, its education and employment levels are higher than in most American and European countries.
Roberto Arroyo Aguilar. Veracruz, Veracruz, Mexico.
September 25 – 2002
I know you receive these sort of messages everyday, so I'll understand if I don't receive a response right away; however I have tried all possible means to get a job here in Canada. I am a landed immigrant from Nigeria and I arrived here in Saskatoon Saskatchewan 3 years ago. Pertaining to my training and background, I received my undergraduate degree in Mathematics in 1976. I have since worked for the former Lever Brothers Nigeria PLC (now Unilever Nigeria), a very large multinational company until I retired in 1998 as the Head of Computers and Company planning Manager. I have since my retirement managed my own private computer business back home in Nigeria and decided to move to Canada where i believe endless opportunities exist for me and my family. So far, my job hunt has not been fruitful, as I have applied (and is still applying) for numerous computer positions I believe I am well qualified for and received not even a call for an interview. If it is possible your organization can help me in my search, I will be extremely grateful. All other details of my qualifications are stated in my resume. Thank you kindly.
Bakare Adebayo. Saskatchewan, Canada
September 29 – 2002
I If you are a would-be immigrant in Canada, arriving from a 3rd world country, well qualified and experienced and hoping to earn a living in your line – I can only suggest you to read the facts: http://www.geocities.com/CapitolHill/6174/isbc.html http://webhome.idirect.com/~sluna/islandmay0701.htm. Judge yourself whether you've been looking for a 'hand-to-mouth' lifestyle surviving on unskilled labour jobs or so-called 'odd jobs' – because your credentials and degrees here are worth no more than trash – or wait a bit more to do something more positive for advancement of your career in your own country.
Satindra. Canada.
September 29 – 2002
Thanks for this website for helping immigrants.
Benny Punnoose. Calgary, Alberta, Canada.