Forum October 2002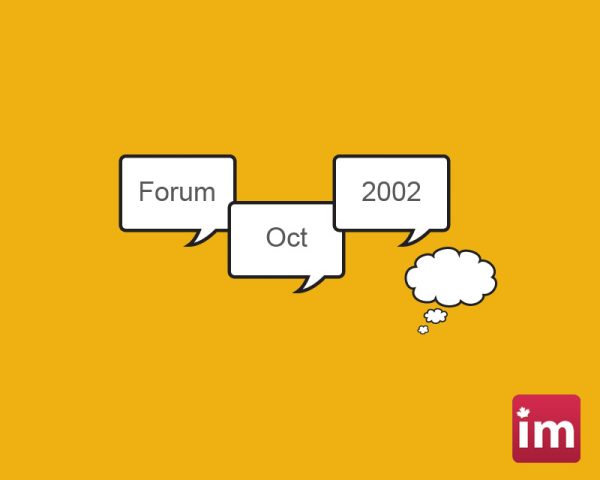 October 1 – 2002
One of my staff has shown me your web site and I note that in the Alberta listings of agencies we are not present, even though we provide the vast majority of all employment-related services for immigrants in the Edmonton region. Can you tell me how the agencies that are listed come to be included? Are you wanting more complete listings? Is there a charge to be included in your listings? Any information you can offer would be appreciated. Thank you.
Jim Gurnett.
Executive Director
Edmonton Mennonite Centre for Newcomers
October 2 – 2002
I had my own and successful restaurant for 7 years in Mexico City specialized in Mediterranean and International cuisine, and banquets. I sold it because of the high criminality in the city. I have applied for the Canadian residence, and it is my great desire to live and work in Canada.
Juan Carlos Tagle. Cabo San Lucas, B.C. Mexico.
October 2 – 2002
I was looking for an IT job before I went for my 10 month courses at CDI College, but somehow the IT job market are so slow that most of new graduate find it very tough to compete with people in the IT industries for many years.
This is why I wanted to change my career to be able to work at Vancouver International Airport. What does it take to get into this field?
William Lee. Vancouver, B.C.
October 5 – 2002
I want to go to Canada permanently and open a trading company. I also want to give the taxes to the government of Canada. Awaiting your best news. Best regards,
Muhammad Gulzar Khan. Peshawar City, Pakistan.
October 5 – 2002
My name is Miguel Benavides Garcia, Peruvian 38 years old, married with 4 children, Civil Constructor. I have a small company. I worked for the previous government of Peru. Now I have problems and I am marginalized. With no work but. My family is struggling, I have know of several Peruvians like me that have gone to live to Canada as refugees, and they have jobs. Please, no much speak English. Desire work in Canada.
Miguel Benavides Garcia. Peru.
October 6 – 2002
I have worked for oil and gas companies. I have enough experience in corrosion and related aspects. I hope we can help each other. Thanks.
Jaime Garay. Maracaibo, Zulia, Venezuela.
October 6 – 2002
Very good Web Site. However, as long as there is no action for so many messages posted here, we cannot achieve anything except frustration.
Here is my short story as a Canadian immigrant and a victim of harassment and discrimination in employment:
I am a Canadian & Romanian citizen who immigrated to Canada together with my wife and daughter ten years ago. We lived in the past under Ceausescu's communist dictatorship, and we came here with a great hope for our daughter's better life and future, but this is not the life that we expected to have here. That's because when I was attending an employment placement at the Ministry of Environment and Energy in 1995, it came to power Harris government – crystal clear against immigrants – which discriminated me in employment, and sent me back to an immigration agency to ask for help in getting a job because I was an immigrant on welfare at that time.
In order to understand better my frustration, imagine that you are a immigrant on welfare, you successfully pass rigorous English and math tests at a prestigious College in order to attend a special training designed for professional immigrants, then you go to a job placement and somebody (who is far-right extremist, and saw your resume) tells you exactly this: "it is not your fault that you came here, but you have to leave". In addition, that person gives you a piece of paper with a name of an immigration agency telling you to go there if you want a job. Also, you see that a group of friends of that person treats you like an intruder immigrant and virus in their work place, and they harass you and do whatever they want to get rid of you. In other words, they are telling you very clearly that you are not welcome in their work environment because you are an immigrant and not Canadian citizen. Moreover, although you did a very good job, you received a very successful assessment from your supervisor and signed an agreement for one of four available positions, you get in the end a thank letter from the Deputy Minister, appointed by "against-immigrant government" that just came to power, and you are redirected again to an immigration agency to ask for help in getting a job. It is an outrageous and woeful situation to see now that the same government pretends that it has created the Workfare program in order to help welfare recipients get jobs! http://home.ica.net/~imoraru/.
Ioan Moraru, Toronto, Canada.
October 7 – 2002
Hello,
We are very interested in posting jobs with your site. We are just wondering a few things and were hoping you could help us out. We were wondering: * your exact company/organization name * where the job postings reach (i.e. which area in Canada, USA, world, etc. is this site targeted towards?) * a contact name * a contact phone number * a contact fax number. Your help is greatly appreciated. Thanks!
Denise Egert
Human Resources Coordinator
SHAW COMMUNICATIONS INC.
October 9 – 2002
Last year I graduated at the Dutch agricultural university in the Netherlands for my bachelor's degree in plant production. After this I worked for a company in Coaldale, Alberta where I did 2 of my university trainings. Because of my experience in Canada and the lower opportunities in agricultural business in the Netherlands I decided to apply for emigration to Canada. Because of the work experience in Canada I was able to make a wise decision to emigrate to Canada and my former employer is willing to act as a reference for my search for a job in Canada. I should get my landed immigrant status for Canada in a short term. Because of my experience and my communication skills and the farmers mentality I got from home, I am searching for a full time job in the field of agricultural management and / or planning. Sincerely,
John Daling. Smilde, the Netherlands.
October 16 – 2002
For immigrants like me there is no opportunity to work in our field of expertise when we arrive in a different country. We do any kind of work in order to get some money, survive, and help our families. (Ecuadorian living in Spain)
Fernando Larrea. Spain.
October 17 – 2002
I think you are doing a great job by helping us in looking for a job. Thank you.
Prystupa. Toronto, Ontario.
October 18 – 2002
I want to emigrate to Canada because I have three daughters -22, 29, and 16 years old. Two of them are university students, the other one is in High School. I know that Canada can give them what Latin America can not. I like Saskatchewan. It is not very populated, and I believe that there is the opportunity to emigrate, get job, and to develop.
Luis Adalberto Macal. El Salvador.
October 18 – 2002
Thanks! Congratulations for this Web site. I am amazed by your good will to help people.
Joel Bernal.
October 20 – 2002
I don't know companies in Canada, but I would like to work in electrical stuff. It could be in factories, mall maintenance, residential or sport areas. Thank you for give me this space because I am writing from Mexico, and I don't have any contacts in Canada.
Salomon Rodriguez Gonzalez. Atizapan, Estado de Mexico
October 21 – 2002
I am the director of a Cuban Quartet "Caribbean Soul". We are specialized in traditional Cuban music and international. We are three women and a man, we all are graduated from Cuban art schools. We speak English. We work in two formats, one for restaurants, and the other for discotheque. For the restaurant we play guitar, violin, voices, bongo, and percussions. For the disco we play piano, saxophone, bass, congas, and voices. (Cubans living in Cyprus)
Gelsys Nico Menendez. Cyprus.
October 22 – 2002
While I was studying at the university, I got three scholarships due to my high academic performance. I also graduated with honors. I worked two years in Bogotá. I worked as a university professor for six months. Then, when I was 26 years old, I became a Director of the Electronics Program -position that I held for a year and a half. Because of the difficult situation in my country, I moved to Spain. With the new immigration laws, I haven't been able to regularize my status; however, I wouldn't have economic problems to move with my wife who is also an electronics engineer.
Javier Celemin. Spain.
October 22 – 2002
I desire very much to migrate to Canada because I had the opportunity to be in Saskatoon for two months. I had a scholarship from the University of Saskatchewan in 1998. I want to live in that country.
Marco Trujillo. Toluca, Mexico.
October 23 – 2002
I think this site is excellent. I have check several Canadian sites about statistics, and they do not present the statistical information as clear as you do. Neither do they care about people with visual disabilities. Congratulations!
Armstrong. United States of America.
October 24 – 2002
I wish to get a job in Geophysics. That will make me the happiest person on earth. I really need to practice Geophysics .This has always been my dream.
Cilia Fash. United States of America
October 25 – 2002
I truly appreciate the support your institution gives to all immigrants in Canada. On our behalf, we have to repay this opportunity with dedication and effort, so we can contribute to the development of Canada, and consequently to give a better life to our families.
Miguel Alfonso. Lima, Peru.
October 26 – 2002
Hi! I am from Mexico, and I want to tell you about the problem that my sister lives everyday at work. She married a Canadian man. She lives in London, Ontario. She has been working in a restaurant for two years. She prepares salads, and she is in charge of the salad bar. She has told me that some people, particularly the chef, constantly humiliates her. He tells her that he doesn't understand her, that she doesn't speak English well, and that our Spanish language is garbage. He tells her that English is the most important language in the world, so the poor (this word emphasized with derogative adjectives) have to learn it in order to survive. My poor sister doesn't know what to do. She doesn't have Internet, doesn't speak English well, and doesn't know her rights under the Canadian law. I want to help her because I don't want her to suffer for this reason. I am asking you to help her since the people that humiliate her also belittle other Arab and Latino employees.
Roselyn Bello de Asselin. Mexico.
October 28 – 2002
I appreciate the opportunity to post my resume here, and to have the possibility to get a job. My goal is to improve my family's living standard.
Juan Carlos Tovar Guzman. Reynosa, Tamaulipas, Mexico.
October 28 – 2002
My husband and I are liquor producers and we want to produce them in Canada. They do not contain any preservatives nor chemicals.
Victoria Saggia de Godoy. Asuncion, Paraguay.
October 29 – 2002
I appreciate very much that you post my resume. I am going to travel to Toronto on January 10, 2003 with a tourist visa. I would have some job interviews and would apply for a work permit. This would be the ideal situation to apply later for a permanent residence as a skilled worker.
Samuel Briceño. Lima, Peru.
October 29 – 2002
I do not have any preference for any company. I just want to work in Toronto because I have a place to stay at.
Vivian Flores Pindter. Mexico, D.F.
October 31 – 2002
I really appreciate your end for establishing this one of a kind opportunity for an individual who is aiming to work abroad especially in Canada. I am looking forward to be included in the list of successful applicants whom you have helped in their pursuit in living and working in Canada through this Web site.
Felipe Laude. Davao City, Philippines.
October 31 – 2002
Truthfully I am looking for a better present, so I could make a better future. I think that in Canada there are good possibilities to achieve this goal. Moreover, I would grow as a person because of the experience of living in another country. It is a great way to practice English. Currently I am 23 years old, and I would like to do my best in order to get a better future.
Marco Guzman Rojas. San José, Costa Rica.