Forum November 2002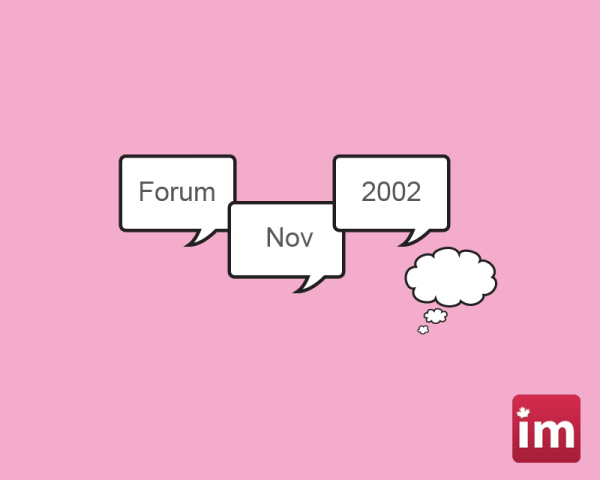 November 1 – 2002
I would like to contribute with my knowledge to the development of Canada – a great nation that is going ahead. I have always had the desire to visit several places there. I am qualified to do any fish or biology research. Recently I took a fishery course in north Japan, and I had the opportunity to work with the data of salmon fishing in the Pacific Ocean; I was estimating the fish ages. I believe that I won't have any problem with the weather since I studied in Russia for 6 years. I speak Russian perfectly. I rate my English in 75%, and my mother tongue is Spanish. I am willing to work in the fish or biology field in any part of the country.
Luis Emilio Velasquez. Managua, Nicaragua.
November 2 – 2002
I live in Mexico, but I want to emigrate to Canada. By looking at your site I have read that it would be easier if I get a job there. I have always been responsible and flexible at work.
Magali Arias Sahagun. Guadalajara, Jalisco, Mexico
November 4 – 2002
I am 21 years old. I don't like neither the way politics is handled in my country nor the living standard. I know there are other horizons with new opportunities; where there is less inequalities, with better wages, and without unbearable delinquency. I believe Canada is a good place where my expectations would grow along with my potentiality because unfortunately in my country – even though I love it- it is not possible to achieve true development.
Miguel Angel Estrella Barona. Mexico, D.F.
November 5 – 2002
I would like to work in Canada because it is truly a country of the first world; without the social vices of many other countries, and with stability as a guarantee of a good life. After all, that is why we are here; to enjoy life.
Tonatiuh Serna. Mexico, D.F.
November 5 – 2002
Hello, my name is Claudia. I'm a German student and I'm writing a term-paper on Canadian English. I found the graphics on your page http://www.canadaimmigrants.com/statistics2.asp They would be very helpful for my paper and so I wanted to ask, how or whether I can get them? Thanks for your help.
Claudia Baumer. Germany.
November 6 – 2002
With my qualification, I am looking for a job in grain-seed industry or food inspection. Instead of doing post-doc in US, I think I can positively contribute and make a difference if I get a good job in Canada.
Rajshekhar. Stillwater, OK, USA.
November 6 – 2002
I worked as a forest firefighter for the past years under the administration of the National Park Nahuel Huapi, Argentina. Due to 2001 new regulations, I wasn't hired again since that regulations excludes people over 36 years old. Please let me know about any job opportunity. Sincerely,
Carlos Fuentes. Argentina.
November 13 – 2002
Hi, my name is Octavio Villasante. A few days ago I saw an ad in a newspaper where the province of Quebec were looking for 1600 Mexican residents that were professionals interested in moving to Canada. If you know something about it, please let me know. Thanks.
Octavio Villasante T. Mexico.
November 14 – 2002
Due to human rights violations (kidnapping, homicides, etc.) my family is applying for permanent residence in Toronto, Canada. We have an immigration interview next December 2 in Los Angeles. I have been studying English for two years, and I would like to work in any activity related to my profession.
Florely Restrepo Pulgarin. Medellin, Colombia.
November 15 – 2002
I am an agronomist. Currently I work in the fruit industry, but it is too dangerous because the guerillas are kidnapping people and asking for money. I look for a job in a country without war. Thanks.
Javier Murra. Colombia.
November 18 – 2002
Georgina, I hope you are fine. Thanks for replying my email. In Mexico the situation of immigrants is too bad; their rights are ignored, and it is pretty common that they are robbed when they arrive in Mexico. They come in very deplorable conditions to the Immigration Center -By the way, there is only one center on the southern border. They get two meals a day. Only adults are accepted, and they can't leave the center. They don't have television. It looks like imprisonment. Their goal is to go to the United States. Lately, people from Africa and India have come. They look for asylum in Mexico, but they don't get it. Even worse, when they come, our officers don't speak English, so they can't communicate. Fortunately, I was working there -a relative works there, so I could help some immigrants from Africa and India. That's why the situation of immigrants in Canada caught my attention. Thanks again.
Paul Marquez Garcia. Chiapas, Mexico.
November 20 – 2002
Hi there! First of all KEEP THE GOOD WORK ON! I am a victim of RACISM by 2 countries which I see very similar. One is SAUDI ARABIA which is not open to me and cause me to loose an international career with a MNE, and the second is CANADA which is never going to accept me. I am presently redoing my MBA from York University but feel that being a SIKH (turban wearing person) I can never get a fair treatment in Canada. I don't know who said that they have the best living values ?? LIVE WITH RACISM or QUIT THIS COUNTRY.
Amarpreet Singh. Ontario, Canada.
November 20 – 2002
Hi, my name is Sergio Blanco -from Puebla, Mexico. I am 35 years old and an architect. I have my visa as a independent immigrant issued by the province of Quebec. I lived in Canada for a couple of months, but due to SYSTEMIC RACISM – I want to write it down in capital letters- I decided to came back to Mexico. I would like to know if you can contact me with a Canadian company.
Sergio Blanco de Puebla, Mexico.
November 22 – 2002
Georgina, I appreciate your help to your community; it is an immense help. I would like to know about jobs and immigration in Canada. I am living in California, but it is not a good time for immigrants here; they have become too strict, and they are not interested in that. To them immigrants are terrorists, but nothing can be done against that. I am 34 years old, and I would like to work in construction.
Adrian. California, USA.
November 24 – 2002
I am really happy to find this website that contribute to new immigrants in Canada. We came here to build Canada as well as pursue for our own dreams, this means best usage of our potential to benefit this country. Thank you all.
Willie Y. Zhang. British Columbia, Canada.
November 24 – 2002
Although it is difficult to get into the labor market as a professional trained out of Canada, I believe that this country has a lot o things to offer. I see Canada as USA 50 or 60 years ago – with the necessity of immigrants. I recently moved to Canada, and I found out that among first immigrant generations of Italians, Irish, Greeks, and Portuguese are the ones that obstruct the way to higher positions. Canada is a country of immigrants, but ironically when an immigrant arrives some people make you feel like an intruder. I arrived here 2 years ago, and I had to work in everything. I still remember working 12 hours a day in a farm – picking cucumbers. I recalled my graduation day with all my classmates, when I was wearing a rented smoking elegantly. It is surprising how many educated people from Latin America prefer to immigrate to Canada instead of the USA. They think everything is going to be easier here. The Canadian policy on immigration and jobs is very clear; they need human resources for technical jobs, where physical work is needed. Therefore, one has to spend some years in revalidating his credentials and getting work experience here, so a company would be interested in you. That's why I decided to work out of big cities. Small towns offer better possibilities to start your own business.
Gregorio Hamilton. Canada.
November 24 – 2002
I am an Argentine nurse. I am 36 years old. I am married and have three children. We have started our application in the Canadian Embassy in Buenos Aires. They said to us that Canada does not need nurses, but The British Columbia Registered Nursing Association does not agree with them. We would like to emigrate to Canada.
Cecilia Rita Re. Rio Gallegos, Argentina.
November 29 – 2002
Dear Sirs:
I am interested in moving to Canada because of my kids -Emiliano 1 year old, Renato 5, and Jose 8. I have the intention of buying a farm in Manitoba. I am a civil engineer, but I believe that if I applied as an independent worker, it would be more difficult, so I would probably go to study English for a couple of months. I was living in Chiapas, but I received threats of kidnapping, so I moved to Toluca. What it would be more convenient to go? As an independent worker? How about the rural areas that you mention? What it would be like for my kids? My sincere greetings.
José Canales Espinoza. Mexico.