Forum May 2003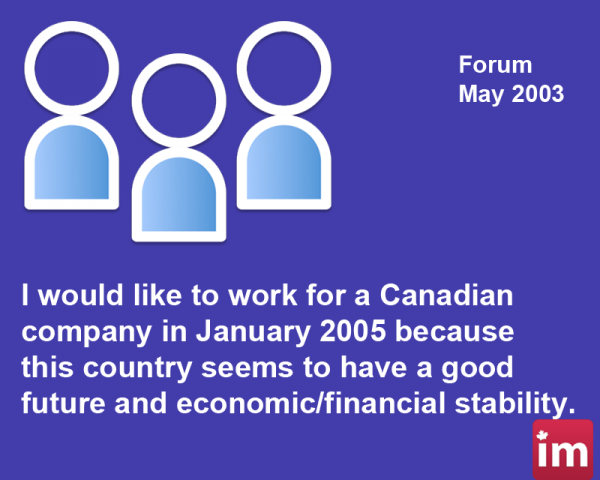 May 6 – 2003
I am currently studying. I would like to work for a Canadian company in January 2005 because this country seems to have a good future and economic/financial stability.
Imelda P. I. Guadalajara, Mexico.
May 6 – 2003
Thanks for giving the opportunity to post a free job wanted ad. I know most companies that publish these kinds of ads charge a fee. I also know that finding a job in Canada is quite difficult, but I don't want to miss the opportunity that you kindly offer.
Gabriela Morelos. USA.




May 9 – 2003
Due to serious limitation of funding and research materials, I am unable to use my full effort, so I am looking forward to have any opportunity to work in better conditions for a research and conservation institute.
Anagaw M. Addis Ababa, Ethiopia.
May 10 – 2003
Hello. I am currently living in Mexico City -with my wife and my daughter. We are applying for our visas to migrate to Quebec because we want to improve our living standard and contribute with the place that embraces us. I am studying French and want to get a job over there before I leave the things I have here. I have also heard that my application would be easier if a Canadian employer offers me a job. I hope I get an opportunity through your site. Thanks.
Marco Antonio Olmos. Mexico, D.F.
May 14 – 2003
Thank you for the service to post my initial resume. More power.
Allan P. B. Cagayan de Oro, Philippines.
May 20 – 2003
Thanks for giving us the opportunity to post our resume since I consider it is an open door to professional and social development.
Lina Maria V. Floridablanca, Sder., Colombia.
May 20 – 2003
I pretend to start within the next month my immigration process to get the Canadian residence in order to be able to establish there. In order to have a stronger application I am planning to take an English – French course, probably in Ontario or Quebec, of which I am already making applications to star ASAP.
I have being twice in Canada, in Edmonton and Calgary area yet I had the fortune to know the Canadian way of life in the west and since I have pretend to go back.
I am 32 years old, English 90%, with MBA studies an 10 years of working experience, mainly in transnational companies like DuPont Ag and Monsanto. I want to be a fine Canadian resident and a very reliable employee.
Jesus Adolfo R. Veracruz, Mexico.
May 22 – 2003
I am a brand new immigrant to Canada, I got some new thoughts from the different cultures, to share them with others are excited. I also want to tell others why so many Chinese want to come here, and what they are doing after landing, what they are facing now. Wherever do you come from, you should bring your culture here, and bring new culture back to your homeland. Let us explore this deeply together.
Sincerely,
David, Canada.
May 23 – 2003
Hello:
Congratulations on this great website.
I have all plan it to move to Montreal last week of June 2003, and I was horrified to see what all this people is saying about work in Canada. I am a Computer Systems Administrator with more than 9 years of experience.
I have done all research I can; all government sites and lots of other website state that computer technicians are in need across Canada.
Could someone be so kind to tell about this?
Is it true or the government just wants more immigrants?
Where can I find the real facts about computer employment and unemployment rates?
Thanks for all your help.
Gabriela P. Costa Rica.