Forum March 2003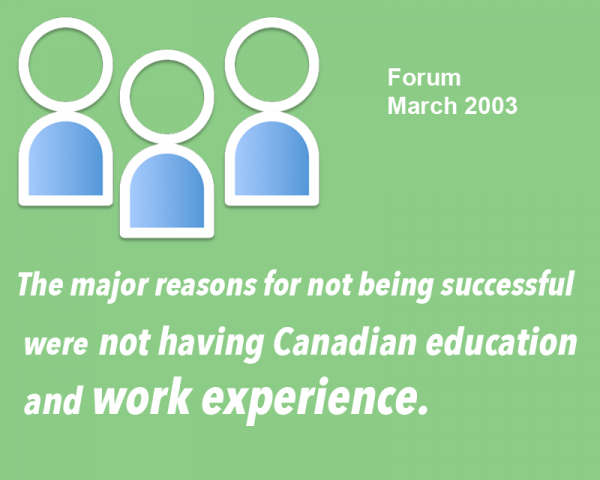 March 1 – 2003
I have been continuously watching your site and its progress. People like me from various parts of world who are searching for jobs feel this is a great opportunities to try to get some job.
Saravana Kumar. India.
March 2 – 2003
I would like to say a bit about myself and experiences in Canada. I came as a landed immigrant to Canada in April 1997. At that time I had electrical engineering degree with five years of experience from Iran. I looked for job and sent resume to many employers for six months. But, I didn't receive even one response.
The major reasons for not being successful were, not having Canadian education and work experience. So, I decided to go back to school and in four years (from 1998 to 2002) I graduated in Computer Engineering/Computer Science combine degree with way above average academic achievements.
During my school years in University of Western Ontario I was always helping other students as a tutor or on a non-profit bases. I remember everybody at school was telling me: "oh you are very smart…. for sure you will find job very easily… who ever hires you, is lucky …." and so on.
Personally, I don't like to be proud of myself and I always let other people judge me, rather than myself. But, I know that I have a very high level interpersonal abilities, I am a caring person who always considers others first and then think about myself. I have lots of technical knowledge as reflected in my resume and they are 100% true.
But still after about nine months looking for jobs and applying for more than 300 jobs I just got two interviews and unfortunately the results were negative. I know that some other students who have been graduated with me have not found job yet and all of them are immigrants like me. I think the "it is not what you know, it is who you know" is a very correct statement.
Now, I am at the point of giving up my job search and going back to school and to continue toward the master degree. But, I am not sure whether it will change anything or not. I appreciate any help toward any possible employment. I will even accept volunteer job for a few months. So, the possible potential employer can decide on hiring me easier. Truly,
Reza Khoshbin. London, Ontario.
March 3 – 2003
I am a 36 year-old male from Pakistan. I am here as an immigrant. I am currently living in Cornwall. I can do any type of job for my survival.
Kamran Suleman (Technologist). Cornwall, Ontario.
March 8 – 2003
I came to Canada at October 1999 and found a good job which lasted for only 1.5 years. I was laid off at August 2001 and since that time I am looking for a job. If this site helps me to find a job, I will be more than happy.
Cihat Enbatan. Ontario, Canada.
March 12 – 2003
I think it is a very good idea to offer this service to help others get a good job.
Ivan M. Portillo. Caracas, Venezuela.
March 14 – 2003
I worked in Halifax NS onboard a drilling rig for a UK based company that organized my employment authorization visa for 6 months. I decided then to try and immigrate, since I have returned twice to try to gain a validated job offer which is proving very difficult. I have enlisted the services of a consultant to help me and I still have no offer, so I hope that maybe you will be of some help to me in my quest for immigration to Canada. Your site is excellent and may I add that there are not too many people offering free help. Thank you and best of luck.
Sean Jones. Scotland.
March 15 – 2003
I have lived in Canada as a landed immigrant, I was studying my masters degree on finance and had a successful career in my past. In Canada the best job I finally could get was as a waitress. Think twice before trying to get to Canada. For many people without professional education, Canada can be their best choice, they would get a better life here. But for people with more preparation Canada is not the place to move. It would lead you to frustration and depression to work in an under qualified job, for me, it is been really hard to try to prove and fight for the right to be recognized as a professional, so hard that many times I think I shouldn't come to Canada.
Sophie M. C. Montreal, Canada.
March 17 – 2003
I have applied for immigration to Canada on 6th may 2000 and expecting my visa soon. My qualifications are approved by University of Toronto, and I have ten years of experience. I am looking forward to profession association with firms in Canada.
Vikas G More. India.
March 17 – 2003
I just want a suitable job!
Alvaro Enrique Rueda Torres. San Cristobal, Venezuela.
March 20 – 2003
Most of employers criticize the candidates don't have "enough Canadian experience". I managed international projects, worked together with international colleagues and reported to international bosses. I'm very disappointed about the situation in
Canada. HRDC or Ministry of Immigration should educate Canadian employers broadly.
Janet Chu. Toronto, Canada.
March 23 – 2003
I am also a relatively new immigrant to Canada, been here in Toronto for less than 11 months. Let me share with you my experiences, and the experiences of people whom I have worked with.
I graduated from a reputable university in the Philippines as Magna Cum laude in Bachelor of Science in Psychology, took up my Masters degree in Business Administration, and have some units in Masters in Child Education. I was a former Manager in my country.
In my entire job searching efforts, I never was called for an interview in my own profession. After some time and since my finances are limited, I was forced to accept a job as a Kitchen Helper. Here, my physical health deteriorated as I had to wash dishes, chop vegetables and fruits, and serve angry customers. Day in and day out I think of the kind of life I had back in the Philippines, and wished I could save some money to go back home. Unfortunately, my salary is not even enough to cover the apartment rentals, as the rent control law was halted a few years back before I came to Toronto.
Those who have worked with me have went back to their own countries. One of them is a Thai who was a Computer Professional and even passed the licensure exam for programmers in Canada. Even if he has this license, he still could not find a job in his field, not even as a Data Encoder. He still cuts bagels and serves coffee.
They say that this will be your job as a "start", but I have also seen a lot of immigrants here who have been doing the same job for 10 long years. Worse, they move from one job to the next, as Canadian employers lay them off after some time.
They say that education for children is good here in Canada, but I see a lot of university students who cannot spell correctly and could not compose a decent memo.
Canadian immigration is modern-day slavery! Do not believe anything the government says! There are NO jobs in Canada! They only need immigrants' money to keep their economy going!
Eva U. Toronto, Canada.
March 25 – 2003
I hope this works. If it does, just rewards await you!
Anand Shankar. India.
March 26 – 2003
It is really a good approach for building a strong relationship within the new environment. Shows the caring nature towards the immigrants.
Sandeep Singh. Ontario, Canada.
March 26 – 2003
I am currently living in Puebla, Mexico. My wife and I are applying for our resident visa to migrate to Montreal. The time to move there is coming, so I need to know about my possibilities to get a job with a decent salary. My professional experience is in real estate, projects, construction, financial mathematics.
Sergio Miceli. Puebla, Mexico.
March 28 – 2003
Your website is very helpful especially for us who have pending application for immigration in Canada. I am very hopeful that through your website, I will be able to find an employer prior to my coming to your country. Thank you very much and keep up the good work.
Bernadetti M. Lopez. Manila, Philippines.