Forum June 2003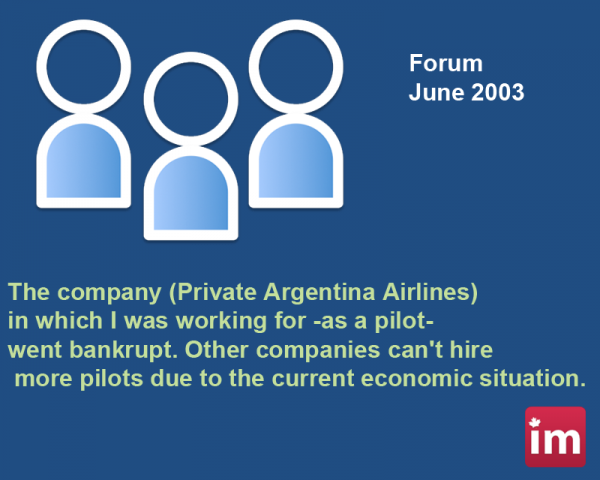 June 2 – 2003
Hi,
Would you mind to provide this link to those that want to know what is the fate of immigrants in Canada?
http://www12.statcan.ca/english/census01/Products/Analytic/companion/earn/canada.cfm#5
I hope this info can be trusted since it is produced by the Canadian government itself, not by the immigrants!
Best, Gabriel (from USA)
June 10 – 2003
Thanks in advance for this opportunity to submit my resume.
J. Sanchez. Mexico.




June 11 – 2003
The company (Private Argentina Airlines) in which I was working for -as a pilot- went bankrupt. Other companies can't hire more pilots due to the current economic situation. Argentina Airlines -managed by a Spanish group- is the only affluent company.
E. Monteleone. Buenos Aires, Argentina.
June 11 – 2003
We came here in British Columbia this past February from Los Angeles, California from which we resided and worked for 19 yrs with high hopes of a better future not only for me and my wife but as well as our siblings. Almost 4 months had passed and we are still unemployed. We have noticed that the employers here seems to be practicing strong discrimination against new immigrants by automatically disqualifying them for the position due to lack of " local" experience. In our 19 yrs in the United States, I don't recall being asked of my local experience by any of my previous employers. They hire based on qualifications and skill not based on your so called "local" experience.
And to top that ugly practice of Canadian employers, I noticed that the Canadian Govt. doesn't seem to monitor their actions. The new immigrant seems to be at a lost. Just like most immigrants that come to this country, we are highly skilled and intellectual people. Us, being trained and extensively exposed to American work ethics.
I do not understand why the Canadian Govt./ politician keeps a blind eye on issue like this. The immigrant in this country, just like in the U.S. are the backbone and future of Canada. If this kind of action will continuously be tolerated, Canada might as well just close it's border and not entice skilled workers to immigrate in this country. The time is NOW to act and stop this ugly practices as it does not promote prosperity and feeling of acceptance, especially among new immigrants.
I see this issue as one of the major reason, why Canada and its people are years behind in comparison with their neighbor, south of the border. Thank you,
R. Gomez. Canada.
June 13 – 2003
I'm glad this website exists. It has been too long and much too hard for immigrants to get a fair break in this country. I was not aware of this site before, and only discovered it by accident.
Let's put it this way. My life is every immigrant's life. A life of hearing "no, there are better people than you who have better qualifications". If that was true then I would be happy to be a security guard, janitor, labourer, and what have you.
But, through my life experiences in menial jobs, I have found out what every immigrant knows to be a fact of life. There are an awful lot of white people who get jobs because of what and who they are, at the expense of immigrants, who are shuffled to the sidelines because of what and who THEY are.
Oh, I know there are anti-discrimination laws and politicians who will yap mindlessly about the Canadian myth. Canada is a multicultural country and Canadians are truly international people who love the world.
Really? How come the people who are regular Canadians don't practise what their politicians preach? I don't know of any place more racist and backwards than Canada. How come I have been told "the office isn't ready for a brown man yet?" That was for a job which I interviewed for at American Express Canada.
I guess Canada isn't as progressive as the myth it likes to project to the rest of the world.
G. Grewall. Canada.
June 14 – 2003
Being a good educational background and significant years of experience in the context of Asia I should eligible to get at least entry level professional jobs. Due to under estimation and language domination everywhere people say that you are new immigrant and have no Canadian experience. Therefore Canada government should manage to get into job for the Canadian experience.
Betman Singh. Alberta, Canada.
June 17 – 2003
Thanks for this important opportunity to express our opinion on getting a job in Canada. I have lived for 16 years in Canada, and I am a graduated accountant. I took an accounting and computer course in the Commerce High School of Ottawa, and I have never gotten a job related to my profession, and when I applied for low positions they told me that I am overqualified. Sincerely,
Ramiro Jose P. Canada.
June 17 – 2003
Hello to the creators of these way to access to job opportunities because professionals can be known internationally.
I am a physician with 6 years of experience. I speak French and English. I studied at Saint Aintoine University in Paris. I have taken several postgraduate courses and I have worked as a researcher. Sincerely,
Carlos F. Figueroa. Peru.
June 18 – 2003
I'd like to work in the wood industry. I am 31 years old, 1.80 m., and strong. I'd like to move there definitely if I found a company that could give me the opportunity to develop my skills, so it could allow me having my own house, a nice car, and well being.
Luis A. Villanueva. Michoacan, Mexico.
June 18 – 2003
This is a very good site for prospective qualified professionals, and I would definitely like to donate if I get a Job through this site.
R. Naik. India.
June 25 – 2003
Hello,
My name is Tania Leon. I am 27 years old. I studied Administration and Finances. I am Mexican and live in USA.
Today I found this Web site, and I liked it a lot. I am happy that immigrants are supported in this country. Many times immigrants are exploited, underestimated. They believe that we are not able to perform professionally, and they abuse because we are undocumented migrants. In my case, I apply for the Laser Visa, but it is not enough. Employers ask for the resident visa. In my country there are not job opportunities. The ones we have are poorly paid. That's why I left my country.
Tania L. USA.
June 25 – 2003
I looked for a job in Uruguay -my country- for many years, which was unsuccessful because the aeronautical industry has almost disappeared.
And in USA I looked for some months. I got a Turbine aircraft maintenance company that could sponsor me; however, I could not submit my papers because I stayed longer than the time my tourist visa allowed me .
Juan V. USA.
June 26 – 2003
I'd like to work in Canada because there are less migration problems than in the USA.
Ricardo O. USA.
June 30 – 2003
I'd like to work in Canada because it is a country with a great variety of cultures, and it provides excellent opportunities.
Guillermo B. Cd. Sahagun, Puebla, Mexico.