Forum July 2003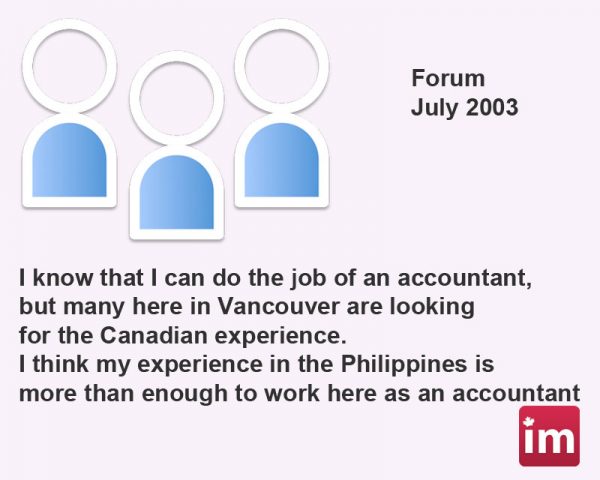 July 4 – 2003
I know that I can do the job of an accountant, but many here in Vancouver are looking for the Canadian experience. I think my experience in the Philippines is more than enough to work here as an accountant. Please help.
Raymond G. Burnaby, British Columbia.




July 6 – 2003
I'd like to work in a country like Canada. It is a multicultural place that has opened its doors to foreigners. I also believe there are countless companies and corporations where one could find a suitable job with opportunities of development.
Juan Pablo M. Cordoba, Veracruz, Mexico.
July 7 – 2003
My name is Claudia my husband is Stephen. We are trying to move to Vancouver to live we live in Belfast at the moment and have applied for immigration if we get a job offer we can move on a work permit.
Claudia H. Belfast, Northern Ireland.
July 7 – 2003
I am a new immigrant. I am looking for a job. The kind of job is not very important. I need the money.
Somayeh K. Canada.
July 8 – 2003
I am always asked for any Canadian experience.
I asked the recruiters back, are Canadians hard to deal with? Why do I need such, in fact if they are referring about the world class standard, I already have international certificates Moreover, I have been working with Australia, India and Asian customers. Now, as far as flexibility is concerned and versatility, my resume manifest it all. Nonetheless, I am very hopeful that I can land a job anytime soon. I don't mind the location as long as I can also contribute for the success of the first employer who will hire me, I will owe this a lot to them. Thanks and More Power.
Neilrey E. Ontario, Canada.
July 8 – 2003
A good site, Lets hope it does create something positive in finding jobs.
Jaswant K. Toronto, Ontario.
July 11 – 2003
Hello, My company closed last year, I'm looking for a new full or part time job. I've finished many projects in Web and Windows Environment. I want find a computer work even a volunteer position. The IT is so bad now.
Shengtao Z. Vancouver, British Columbia.
July 14 – 2003
It seems that every company there in Canada is looking for the so called "Canadian experience". I'm a dedicated worker and very much willing to work any kind of jobs that will commensurate my experience. My permanent resident application will be decided hopefully this year. Anybody there who needs a 12-yr experienced marine biologist?
Giuseppe C. Philippines.
July 16 – 2003
I am a permanent resident in Spain since 1991 -totally documented. For nearly a year, I have been thinking to move to another country, but keep working in the hospitality sector. I have seen this subject on the internet, and it had caught my attention because Canada has always been in my heart – as well as it is to many Algerians. We love this country as if it were our own since Canada is like a huge heart full of affection, and that's what we need.
Manseri M. (Algerian living in Spain).
July 21 – 2003
Since I migrated to Canada, in the year 2000, I have been looking for a position as computer technician… I was lucky to get only one temporary position at Future Shop, which lasted just 6 months. I know I have the required qualifications and skills -not to mention the experience, but I think there isn't any jobs out there in this field.
Rajesh S. Canada.
July 21 – 2003
I was used to work in the field of customer services in an office. I can't find out this kind of job in Calgary. So I want to go to Toronto for searching it as I can speak two languages. It will be appreciated if you will help me.
Thanks again. Sincerely,
Huiping. Calgary, Alberta.
July 24 – 2003
I have a pending application for skilled immigration worker to Canada. If I can find an employer that will find my qualification suited for their needs, it will enable to facilitate my entry their by providing me a working permit.
Rochelle L. Manila, Philippines.
July 25 – 2003
This is a very useful site for job seekers like me. I wish that my chances of getting a job through your site in Canada will be fulfilled.
Merwyn M. Dubai.
July 25 – 2003
Hi,
I have carefully read all of the cases exposed in this site, and honestly to see how Canadian employers abuse and mistreat immigrants made me fell powerless. Immigrants go to that country with their best intentions and the will of being successful. Canadian employers and authorities must be more humane and recognize that immigrants have benefited this country.
I started my visa application process a year ago, and I am still waiting for their answer; however, I consider myself as an immigrant. That's why I'm part of both the problem and the solution that immigrants face. We must join forces so that we can change this situation -sometimes humiliating- that immigrants experience.
We are an incredible high qualified labor force willing to work hard… why not we create our own enterprises and job opportunities? Helping each other, so we don't have to depend on Canadian employers??
Has anybody thought about it? The situation could be reversed, so at the end, immigrants would hire Canadians, and we won't ask them for "local experience" 🙂
Regards,
Carlos R.
July 28 – 2003
I am very much grateful of yours ads. Thank you so for giving us this opportunity to be advertised online for free. More power.
Remedios S. F. Philippines.
July 30 – 2003
Thank you very much for this avenue created for job seekers like me, who are willing to work in Canada. Hope it works out. That will be a dream come true for me.
Thanks and God bless.
Chinwe. Nigeria.
July 31 – 2003
Due to the economic situation in my country, I am forced to attempt to immigrate to your country. That's the way to improve my living standards and guarantee a bright future to my family. Thank you very much.
Luis A. R. Uruguay.