Forum July 2002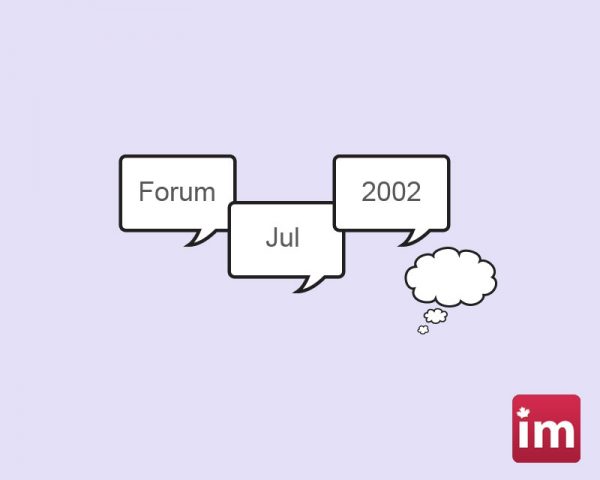 July 1 – 2002
I am an Argentinean, and like many others, I am looking for a job abroad. I would like to move with my family to Canada. A few days ago, they were promoting the immigration to Quebec in my town. That's how I found your site, and I would like to congratulate you for your site that has provided me a lot of valuable information, which has discouraged me a little bit because I see that is not so easy to find a job there. I have worked in commerce for 10 years. I would like to know about the job opportunities, and the advantages to get a job opportunity first, and then to apply for the immigrant visa.
Daniel. Cordoba, Argentina.
July 1 – 2002
I am a Mexican. I have just got my permanent resident visa. Before I move to Canada I would like to have a job opportunity. Thank you for your help.
Abraham Paniagaua Vazquez. Cd. Juarez, Chihuahua, Mexico.
July 1 – 2002
I would like to work in Canada because it is very difficult to find a job in my country. We were waiting for an opportunity in the maquiladora industry, but it is going down. It is being moved to China.
Javier Casas Viezcas. Cd. Juárez, Chihuahua, Mexico.
July 3 – 2002
Keep up the good work.
Paul. Nairobi, Kenya.
July 3 – 2002
I want to live in Canada, but I want to see the job possibilities. That's why I wrote. Thanks for all the information provided.
Mauricio. Leon, Guanajuato, Mexico.
July 3 – 2002
I'm an Argentinean citizen. I'm looking for a lawyer with experience to help me in the Scotia Bank case to recover my savings. Important sum deposited in the Bank. Please contact me. (June 29, 2002)
Thank you very much Georgina. I greatly appreciate your attention. I hope you can help me. I understand that you won't intervene in this case but to provide a lawyer to contact. I think it is the right thing to do and I accept that. I don't know if you are aware of the situation here in Argentina, and the injustice we are suffering who had savings in Banks. In my case, it was in the Scotia Bank. It is very lamentable, and you don't know how much we are suffering because of that. Banks don't want to be responsible. The Bank in which I trusted has deceived me. Thank you again. I hope my case is solved successfully.
Omar. Argentina. info@canadaimmigrants.com
July 4 – 2002
I am an Indian citizen and very hard working person with all the necessary qualities to satisfy my colleagues and superiors. I like to accept and appreciate challenging work and to try my best to bring forward the positive results. I have a passion for reading, writing, listening to the music, and communicating with people from all walks of life. Moreover, I have the qualities to easily merge with people from all cultures. In sports, I like both playing and watching Chess and Cricket.
Sanjeev Kumar Srivastava. Varanasi, India.
July 4 – 2002
I am a physicist with 11 years experience in teaching in colleges and universities. I have strong experience in laboratories and mathematics. I am studying a Masters in Applied Physics -Optics. I have worked with lens aberration and photoelasticity, but research and development is very limited in my country. That's why I want to emigrate and to keep working.
Jimmy Cardenas Ramos. Lima, Peru.
July 4 – 2002
Congratulations for this service!
Juan Pablo Córdoba. Risaralda, Colombia.
July 5 – 2002
Talking about the new immigration law in Canada, and how discouraging it is for many people, I would say: Check the option to emigrate to Australia because there are other countries that require people highly educated.
Rene. Hermosillo, Sonora, Mexico.
July 5 – 2002
Alternatives to emigrate -other than Canada!
Australia
Australia has an open immigration policy. Skilled workers, professionals, entrepreneurs, and investors can apply for their residence. Australia encourages immigrants willing to contribute culturally and economically. It is a young country with immigrant tradition -mainly from Europe. There is no record on racial intolerance, and immigrants are generally welcome -as long as they have immigrated legally.
Spain
Spain has very precise rules that limit the entrance to immigrants who haven't applied for their visa in their countries of origin. It issues the following visa classes: Workers, Investors, Non-lucrative residence, and retirees.
Italy
Italy is a country with a large amount of Latin American immigrants, particularly from Argentina. For those who had Italian ancestors it is easier to get the residence and citizenship. Workers and investors can apply to emigrate.
New Zealand
New Zealand has an open immigration policy. Skilled workers, professionals, entrepreneurs, and investors can apply for their residence. The immigration selection process is accessible to many Latin Americans, but it is rigorous. It is necessary to put attention to all recommendations and regulations before one applies in order to get good results.
USA
The United States is the favorite place to many potential immigrants – mainly from Latin America. It is very important to consider that its immigration system doesn't allow any fraud such as using a temporary visa and remaining indefinitely in the country. Fuente: www.paraemigrar.com
Rene. Hermosillo, Sonora, México.
July 6 – 2002
In almost every employment ad they ask for experience. I don't have any work experience here in Canada. For them my studies and experience from Mexico is not valuable. I am willing to volunteer in order to get the experience they are asking for.
Isabel Herrera. Vancouver, British Columbia, Canada.
July 6 – 2002
My wife and I are nurses. We live in Miami, and we are willing to move to Canada if there is an opportunity to validate our diplomas, so we can work in our field of expertise.
Raul and Cristina Morales. Miami, Florida, USA.
July 8 – 2002
Currently my English skills are not very good, so I would like a job that allows me to practice the language. I like so much your country, and I my university thesis is about workers in Canada.
Nancy Trejo. Mexico.
July 8 – 2002
Currently I am living in the USA, but I don't have a visa to work here. My husband is pharmacist, and both of us studied in Costa Rica.
Sirlen Gonzalez. Indianapolis. USA.
July 8 – 2002
I want to find a job as a photographer in Canada. I would like to live there just for photographic interest.
Ricardo. Leon. Mexico.
July 9 – 2002
I would like to work in Canada because my wife and I consider that it is a country where professional development is potentially good. Moreover, we would like to settle our family in a country where the social environment is nice.
Luis Enrique Varela G. Alajuela, Costa Rica.
July 9 – 2002
To the people of Canadaimmigrants.com,
Thank very much for this opportunity and for considering so valuable the development of human capital.
Fernando Ortiz Santiago. Tuxtla Gutierrez, Chiapas. Mexico.
July 11 – 2002
TO THE PUBLIC OPINION:
It is my duty as a Mexican citizen to write this letter to denounce the facts occurred from May 31 to June 2 2002 at the airport of the city of Toronto, Ontario, Canada.
After investigating on the internet and planning to spend my vacations in that city -with the intentions of knowing the country that so insistently invites you to go. I wanted to know its beautiful landscapes and the cities as well as the country life. I heard of the security in the streets, its low violence index, and its open doors policy, so I bought a round trip airplane ticket which departure date was on May 31 from Guadalajara to Toronto, with a stop in Mexico City.
We landed in Toronto at 7:55 PM on May 31, and we went to the customs desk where an official questioned me upon my intentions of coming to Canada. I said that it was a visit, then he asked "Who are you going to visit?" I cleared it up that it was a trip of pleasure and I would not visit anyone especially. As my English is not very clear we got an interpreter. The official asked me for my hotel reservation. I responded that I had a list of hotels in different Canadian cities that would serve me to get the most convenient. Then he asked if I was intending to go to the United States. I answered that it was possible. He asked me for my American visa, and I showed it to him. He questioned me upon my finances. I agreed to tell him that I carried cash, traveler checks, and my international cards -to get some cash if necessary. The cash was US$ 1,100.00, that could be about C$1,700.00.
From that moment the official began to intimidate me and to ask me why I wanted to go to the US. I responded it was only a possibility. He asked me for a map of Canada or of the city. I did not have one with me. For me it was obvious that the government or the tourism department would provide me one. Like the ones we give them when they come to our country. However, the official began to shout me and to offend me. I asked him for respect and not to raise his voice. He responded "I am in charge." I began to speak to the translator and I asked her to tell him that I understood perfectly what he said, and I wouldn't allow him to humiliate me for being Hispanic. Hitting the counter, he said to me: "Be quiet and allow me to speak." I asked him not to shout at me. He threw my passport and said: "I don't want to take care of you, fucker Hispanic."
Coming out of the counter, he faced me with an attitude of superiority. Threatening me and saying that he would raise charges against me, and I would be detained because of my attitude. He asked me to walk and not to resist or he would hit me and utilize pepper gas. He registered me abruptly. He hit me and touch my private parts several times. He put me in a cell without telling me which would be the charges. He only said that I would have the right to have a counselor or a lawyer, who never arrived. I remained there until 3:00 AM without food, without water, and without being listened… humiliated by not knowing what was going on. Then they transferred me handcuffed to a detention center for immigrants. They assigned me a bed at 4:30 AM to pass the night there.
Saturday, June1, at 8:00 AM they transferred me again to the airport to have an interview with the main consul, where I remained until 3:45 PM without answers. While waiting there I could give myself account of the way they treat people that arrives and passes for that department. I saw a woman of Costa Rica that carried a two-year old baby who was treated like a slut and its daughter was scolded through shouts and threats. A baby is not conscious of the situation. She only thinks about coming out of there and to go home. Another case of abuse that I saw it was about a Pakistan man who was detained for 24 hours with no food. Besides, he had to listen to the mockeries of the officials when he did his prayers. The man wanted to ask a woman how he could get something to eat. The woman did not want to listen to him and asked for security. As if the man were going to attack her, when he just wanted something to eat. As for me, I only wanted to have some water. The official told me to be seated and to wait for my turn. How long should I wait to be able to have some water?
Finally, about 6:00 PM an official called me and informed me that they would not permit me the entrance to Canada because under the official's criterion I was not a genuine visitor, and they considered that my intention was to enter to the United States. I said that criterion seemed very subjective, and I did not agree with it. However, I agree that each country has the right to admit or not to whom they consider pertinent, but I do not agree with the treatment I received. I also mentioned that the conditions of the detention center seem inadequate. I wasn't used to places like that. She asked me in a sarcastic tone: Do you live in a five stars hotel in Mexico? -Assuming that my financial situation was low and if I were not a person who has access to those services in my country. Humiliated and questioned my way of life, I know that I have a much better living standard than they could think.
The official informed me that I would return to Mexico in the first flight in the morning and she asked me to sign some papers. She asked me if I resigned to my right of notifying it to the Mexican consulate. To what I said that I did not resign and she threatened me by saying "Then you would remain in the detention center, you will have charges, and you will have to pay for a lawyer since we will not do it." That seemed a threat and as a condition to return to Mexico.
It is important to mention that during these three days I felt humiliated and psychologically damaged since I cannot forget the handcuffs on my wrists, as if I were a murderer. As well as for the humiliation for being Hispanic and having different skin color. I still hear the shouts of that man. Above all, the frustration for not being able to make my dream come true of visiting a different country. Moreover, when Canadians come to Mexico are not treated in that way by our migration authorities, not by the common people in the beaches, or in the cities. The racism I saw, the way they treated a woman, someone with different beliefs, or myself is humiliating and deplorable. Mostly, when it is a country that brags it is open to migration, to the social well-being, and above all to the human rights, of which they lack in great extent.
Therefore, I recommend to the Commission of Human Rights to check these cases, and I suggest to the public opinion to take into account this experience before selecting Canada as a destiny for pleasure or business since it is not worth while to sell our dignity for some dollars.
Jorge Alfredo Lopez Mar. Mexico.
July 11 – 2002
Truthfully, I am exploring some possibilities. I am married with a professional woman. We have a 7-month daughter. I speak Spanish and English. I can read Italian, Portuguese and French. However, we are adventurous.
Francisco Villalta G. Costa Rica.
July 11 – 2002
I want a company that could consider my intellectual aptitudes and my professional experience. A company that appreciate my aptitudes regardless of my nationality.
Janeth Parra Ramirez. Spain.
July 15 – 2002
Everything alright with my resume and qualification and experience… no interviews.
Goutman. Toronto, Ontario, Canada
July 16 – 2002
Thank you for helping immigrants. I appreciate your concern very much. I appreciate also how friendly and respectful you Canadians are.
Cesar Cardeno. Saskatoon, Saskatchewan.
July 18 – 2002
I chose to immigrate to Canada because of equality and antiracism. Now, I don't know what Canada really is.
Mohammed Nosair. Edmonton, Alberta.
July 20 – 2002
I believe "there is a will there is a way" and power of positive thinking, power of spoken word, power of unity, and power of humbleness.
Mukesh Bhavsar. Vadodara, India.
July 23 – 2002
I think your Job Wanted Postings system is for people living in Canada; however, I have always dreamt of getting a job in any part of that beautiful country.
Randall Sequeira Guevara. Costa Rica.
July 23 – 2002
I appreciate so much your attention, and I send this e-mail wishing you the best. I found your web site by accident. I didn't know about it and your good intentions of helping people in similar conditions. I also found the opportunity of collaborating within my possibilities. I am a 32-year-old lawyer studying a postgraduate course.
Ernesto Contreras Correa. Morelia, Michoacan, Mexico.
July 25 – 2002
I like your approach. This will help immigrants to find a suitable job in their professions instead of doing any job.
Johnny Sebastian. Calgary, Alberta.
July 31 – 2002
I am immigrant from India with over 13 years experience in the accounting field. The last position I held was as an Assistant Manager Accounts. I have vast experience in various aspects of accounting, but since I do not have Canadian experience, I am finding it very difficult to get even entry level jobs. At the moment I am looking for entry level jobs like Accounting clerk, Accounts receivable/payable clerk, Bookkeeper, Cashier, Data entry, Inventory clerk etc. to gain some experience. I would be much happy to get a better job which matches my qualification and experience.
I migrated to Canada on an immigration visa where a point system was followed, but after landing in Canada I have applied for hundreds of jobs in the accounting field, but I did not get a single interview call. The Canadian government issues thousands of visas every year to immigrants, and there are hundreds of employment agencies that have sprung up making tons of money at the cost of the immigrants who have to pay through their nose.
I would like the Canadian government to offer free training and other facilities for immigrants to make them job ready for the Canadian market instead of making them run from pillar to post for a job. Also a legislation has to be introduced to regulate the work of the employment agencies. I would also like to add that are several organizations that provide assistance to immigrants, but these are basically job search workshops, and they do not provide any jobs.
Sanjay Joseph. Ontario, Canada.
July 31 – 2002
I read your site carefully… it is very good. I see you are in the Vancouver area. How is the Latin American community there? Argentineans?
Néstor Fuhr. Argentina.
July 31 – 2002
Excellent site to defend the people's rights. Thanks.
Victor D. Salgado. Chile.