Forum January 2003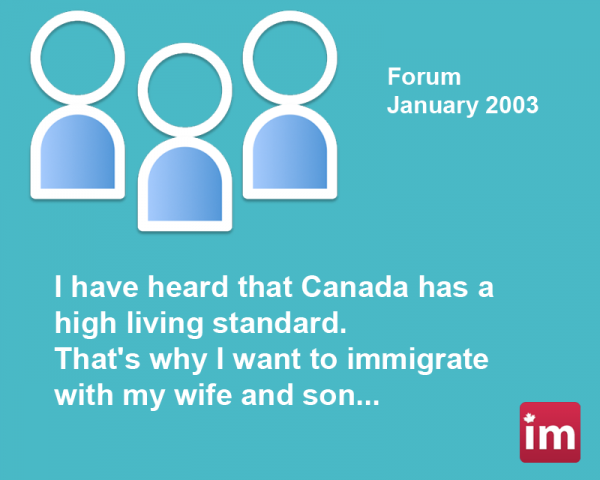 January 5 – 2003
I want to find a job, and work in my profession which I love and spent 10 years studying on it. (Pediatrician)
Fernando B. Concepcion del Uruguay, Entre Rios.
January 5 – 2003
I would be very happy if I lived in your country. I would like to be part of the Canadian labour, live under strict regulations, work hard, and respect my fellowship and the country that gives me a hand. Thanks!
Edgar Jesus L. Tampico, Tamaulipas, Mexico.
January 6 – 2003
There is just one airline in Paraguay, so there is not enough demand, and too much supply.
Manlio A. A. Asuncion, Paraguay.
January 6 – 2003
I would love to work in Canada, and to increase the value of my work through my skills and knowledge.
Gerardo A. Monterrey, Nuevo Leon, Mexico.




January 6 – 2003
I just came back from Madrid, Spain; I was studying a postgraduate course in Systems Engineering. After spending too much money studying, I do not have a job opportunity in my country. I heard that Canada gives opportunities to young professionals, so I would like to work there. Thanks!
Omar Gustavo B. Cuenca, Ecuador.
January 8 – 2003
I am happy that there was a website like this that cater for immigrant job seekers.
Zoilo S. Pulilan, Bulacan, Philippines.
January 8 – 2003
First of all, Congratulations! Such a good site on immigration to Canada! My question is: What are professional possibilities Canada for my wife and I in Canada? (I am Panamanian and my wife is Cuban).
Ivanovich S. Panama.
January 9 – 2003
I would like to contribute to changing the attitude towards "minorities". I would like to find a job in a positive place.
Lenin V. Guadalajara, Jalisco, Mexico.
January 10 – 2003
My desire is to work in a country with economic harmony where I can develop my skills acquired through studying and job experience, and to get a competitive salary.
Julio Cesar C. Cd. Cuauhtemoc, Ver., Mexico.
January 13 – 2003
(Message originally sent to a MSN community)
Hello everyone, I would like to take the opportunity to talk about my experience on this forum. Before I start, I want to tell you that I have no intention in demoralizing anyone nor to talk against this country. My name is Javier. I am an electro-mechanic technician with solid experience in air conditioning and heating. I have been in Canada for 8 months with my wife, and I tell you that my experience has not been good. I came as a landed immigrant. Before that I worked in the USA as a team leader for important companies in the air conditioning industry.
Up to now, I have sent 87 faxes, 39 letters, and about 120 emails with my resume; I have received JUST ONE CALL, and it was from another city -far away where I live. Frustrated with all of that, I went to employment agencies. I offered my services as a general labour, cleaning, etc. I didn't get any answer. I went to government agencies that help getting jobs. They looked at my resume. They were impressed by my American job experience (they idolize the USA; it is their big brother), but they were sincere. They told me that it wasn't my English skills -since I speak fluently. It wasn't the lack of Canadian experience -which I got as a volunteer and as an apprentice, but they didn't tell me why because they can't do it, but it was because I am a foreigner. They made me to understand that very well.
My wife is in the same situation. We are two young people with studies rejected by a system that doesn't accept us, not because of our qualities, but because our condition as foreigners. It is not due to ethnicity since we are pretty similar to any Canadian on the streets. Is it DISCRIMINATION??????? Forbidden word!! They almost fall down when you ask about discrimination; it is a taboo that they do not want to touch.
Do not believe in those unemployment statistics of this country; they do not apply to you. Over 70% of the people I know have been living on welfare for at least 2 years; they do no have a job. Luckily for me, the American company, for which I worked, is going to sponsor me, so I am coming back to the USA in June. I hope there is no censorship on this page; the situation is not easy. People have to know about different experiences. Why is Canada bringing PhD and university people? To wash dishes?? Do they want first class slaves? They remind me Argentina in the post war era; when they told Italians that Argentinean fields were waiting for them, and the immigrants ended with nothing. Ciao! Good luck in your projects and happy new year! Javier. If you want reliable information, please visit http://www.canadaimmigrants.com/Spanish/
Javier. Toronto, Canada
January 13 – 2003
I am a 30-year-old man looking for a growing and challenging position to explore my abilities and experience. Currently I am a resident of Burnaby but looking forward to move to Alberta -depending where I can get a job. It looks like I have tried so many companies but there is no available positions.
Nqobizitha N. Burnaby, British Columbia, Canada.
January 13 – 2003
I am applying for my immigration visa to Canada, but I want to evaluate the job market first. I want to know about the real possibilities that Canada offers to immigrants.
José Le D. Argentina.
January 14 – 2003
Thanks Canadaimmigrants for supporting those who want to gain job experience in Canada.
Vanessa Giovana M. Peru.
January 14 – 2003
I am a Canadian citizen looking for a job in Vancouver.
Ernesto R. Argentina.
January 15 – 2003
I would like to work for a communications or computer company, and work in Canada. I would do my best, so they would see that Peruvian engineers are capable to advance wherever the opportunities are. Thanks.
Moises Alexander S. Peru.
January 16 – 2003
I am a 36 year-old physician with training in Creative Medicine and Group Facilitation. I am willing to work in any rural town in Canada.
Felix G. Caracas, Venezuela.
January 17 – 2003
I would like to work for a solid company, where our work is respected as well as our education.
Pablo Guachamin C. Quito Ecuador.
January 18 – 2003
During the past 5 months I have submitted over 100 job applications through the internet and have been called for only 3 interviews by placement agencies. All three interviews with the placement agencies were unsuccessful despite the work experience that I have.
I seek your assistance in the search of a part time or temporary employment for me. Thanking you in advance.
Gloria L. Coquitlam, British Columbia.
January 19 – 2003
Thanks for your support. I hope it really works.
Pourang E. Toronto, Ontario.
January 21 – 2003
To me it is very important my professional and personal development. The situation in my country is very difficult; wages aren't good for professionals, so I would like to improve my situation by working in your country. I have heard that Canada is a very free country, that loves peace and has no problems whatsoever -where one can live in calm. I hope my petition is heard. Thank you and God bless you.
Fabian C. Quito, Ecuador.
January 21 – 2003
I will probably go to Canada at the end of this month with a company that is hiring farmers from Mexico, so my work will be as a farmer. However, the work I am looking for is in telecommunications since I have experience in computer networking and communication equipment maintenance.
Luis Manuel L. Macuspana, Tabasco, Mexico.
January 21 – 2003
I'd like to live in Canada because I could take advantage of the TLCAN (NAFTA) within a commercial activity with Mexico.
Argos R. Chapala, Jalisco, Mexico.
January 28 – 2003
I am currently filling my residence application. The only thing I need to complete the requirements is a job offer, but I don't know how to get it. I would like to know if you can help me with that.
Héctor Guillermo Bautista G. Aguascalientes, Mexico.
January 28 – 2003
I have heard that Canada has a high living standard. That's why I want to immigrate with my wife and son, so I could provide them a better future. In Mexico and other Third World Countries it is very difficult to achieve a better future; just the bureaucracy, the rich, and the elite have a promising future.
Abraham Celso A. Texcoco, Mexico.
January 31 – 2003
Thanks for giving this kind of opportunity on the internet . If not for you, my dream of working in Canada will not materialized.
Adelaja E. Ibadan, Nigeria.