Forum February 2003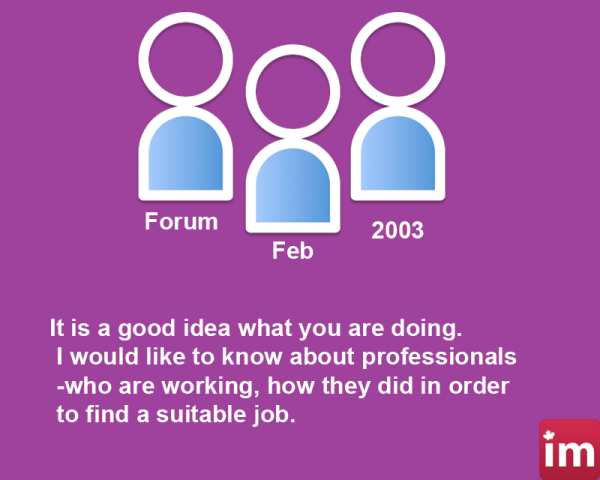 February 1 – 2003
Hi to all,
Thank you for the wonderful work you're doing.
I would like to share our experience with you and the web-surfers.
I would like to tell our experience as "landed immigrants" in Canada. I hold a degree in Economics. Before landing in Canada I completed a Masters Degree in Public Administration from a major U.S. university (ranked as top-five nationwide) I was fluent in English; before being accepted I took and passed the TOEFL test (260 out of 300 points for those who know) and the GRE test. I had worked as an Associate Instructor teaching Statistics to undergraduate students; to be eligible for that post I took another exam administered by the University itself (an interview plus a TOEFL-like exam) My wife speaks English fluently -besides speaking another two languages fluently.
We chose Canada over the European Union –we are both of European descendant, and both my wife and my son hold European Union passports -because we believed that we would do better in Canada than in Europe (you read and hear a lot about the problems in Europe). First, any work experience you got outside Canada is worthless for Canadian employers –the "Canadian Experience" issue-. The same is true for education and not only for those that need accreditation, it is widespread across all the range of possible occupations (I met people with MBAs from the U.S. working in call centers and Ph.Ds in gas stations).
The "employment centers" are of little use. They are privately run but they are subsidized by the government. Therefore, they tend systematically to ignore the problems you face; they are even dangerous because they teach you how to downgrade your resume so you can get a job (they never tell you that the government measures their efficiency by the number of people that get jobs regardless of whether it fits you or not) When they tell you that you need a Canadian-style resume they give you several books on the matter…. with examples from the U.S.A.!!!!
I replied to dozens of ads Canada-wide with absolutely NO answer!!!! Yes, there are a lot of jobs you can apply for, but they are not meant for you, "landed immigrant" The jobs for you are the low level ones. In a Call Center I was told that my English accent was "thick" so I could not interview in English. There you can see the colorful Canada is becoming, except that you will not see Canadian whites –except for the very young and uneducated-; many of the immigrants I met there had university education –accountants, economists, dentists, journalists, system analysts- and several years of work experience, all wasted by the Canadian workplace.
In the end, our suffering ended; my university in the U.S. offered me an assistantship to finish my Ph.D., so we are back in the U.S. I am teaching again –as before, in English-
Is there racism in Canada? My answer is a loud YES! You will see a lot of "visible minorities" in low-level jobs but you will barely notice any in the high ranks. I strongly encourage all of you to use the search engines and look for information –there are tons of articles and academic research done on the matter- before going to Canada. DO NOT TRUST ANYTHING THE CANADIAN GOVERNMENT SAYS! Immigration officers came to my university last year trying to get graduates interested in immigrating to Canada. What for? THEY KNOW you have little chance of working in your field (or maybe they want Ph.D. to wash dishes, deliver pizza and work as nannies) The Federal government was tried in court because of their racial-based hiring and promotion practices. There are TONS of material on the Internet. If you are a researcher you will appreciate this one http://www.utoronto.ca/ethnicstudies/reitz.html#CurrentInterests.
Blessings for all of you,
Gabriel. United States of America.
February 3 – 2003
There's too much labor for farm work in the United States. I'd like to work where experience is appreciated & sought. That means, conscientiousness.
Rod B. Parkdale, Oregon, USA.
February 5 – 2003
I am a respectful person, so I don't want to be discriminated in your country. I am human being as well as you.
Roman V. Santa Cruz, Bolivia.
February 12 – 2003
This site opens up a big window for people like me who wants to have a chance to work abroad -particularly in Canada. Thanks and hope to hear from you soon.
George S. Manila, Philippines.
February 17 – 2003
I am a black person, and there is systemic racism in my country, so it is very difficult to me -if not impossible, to get a suitable job.
Wilmer A. Lima, Peru.
February 21 – 2003
I consider that these kinds of sites are very important because they help establishing professional links at international level.
Juan Carlos N. Guanajuato, Mexico.
February 22 – 2003
First I want to congratulate the owner of this site for the tremendous labor on informing about the migration to Canada. I would like to divide my post in various parts to make it easy to read.
===About migrating to Canada====
I just want to advice those thinking about migrating to Canada to think it twice, the process is lengthy and costly, and if you are lucky to get it you can face a very big disappointment as I did.
Canada sells itself as an open country and it is not. From where I come Canadians are received like gods and treated with respect and despite the fact that most of them are unqualified they go to my country with all the permits while one as an immigrant faces all kind of restrictions to do the job one is prepared for.
An important fact, there is no equal opportunity employers in Canada, in fact Canada does not enforce employers for diversity.
A funny fact is that at some point every Canadian is descendant of an immigrant, but they forget that fact, even the prime minister is a descendant of immigrants!!!!
===For those who live in Canada===
I feel as many of you the discrimination, but never fear, stick to your traditions, roots and values. Just yesterday a person came to me saying that I had to speak English because I was in Canada, I thought for myself never… Canada won't take for me the last resort I can go… my origins, I'll use English just to communicate with other English spoken persons.
I've seen how Asians have dealt with discrimination in Canada and seemed all logical to me, their kids hang around in groups so no bully can threat them, and Asians buy their groceries in Asian owned sites, I encourage you as an immigrant to do the same, tell your kids to hang around with their same country or region peers, help another immigrant as you to get the right job without waiting for something in exchange.
Never trust your local police force, it is well known there is racism against immigrants in the police force of Canada, and it is also well known authorities support this fact. I found myself questioned trying to file a complaint against a Canadian. It is a fact that the mayor crimes and frauds are committed by Canadians. Never fear them if they provoke you, don't fall for that. State your rights and stand tall. They cannot do nothing to you if there is no sign of a law violation.
Do not support Canadian events until they see us as equals.
We earned the right to come to Canada and we deserve no leftovers.
===Final words===
If you happen to find a store called Compucentre do not buy there, they treated my 4 year-old kid as a criminal without a reason, it was honestly because I am Latino and I'm very proud of it.
I think this site must include links to Immigrant business.
My best wishes to all.
Alan G.
February 24 – 2003
I have been surfing a lot on the Internet trying to find some encouraging information to move and work in Canada. Unfortunately, the possibility of immigration to Canada is very small. First, they ask you a lot o money to fulfill the immigration requirements. Second, there are not too many possibilities to get a job in Canada as an immigrant. I feel bad that my dreams of moving to Canada are getting more difficult to become a reality. I been working for 10 years for the same company. I am honest and very dynamic, and I believe that I deserve better living standards, as well as my son does. I am not going to stop trying it. God wills that I have the opportunity to live in that beautiful country.
Nancy J. Asuncion, Paraguay.
February 25 – 2003
Hoping that racism is eradicated.
Rabah S. Canada.
February 25 – 2003
I believe professionals must have better opportunities in any country. Mexicans are capable of working at any level.
David Martinez Cuevas. Otatitlan, Ver., Mexico.
February 25 – 2003
Thanks for your contribution to ameliorate the difficult situation that immigrants face when landing in Canada.
Lidia R. Grande Praire, Alberta.
February 26 – 2003
It is a good idea what you are doing. I would like to know about professionals -who are working, how they did in order to find a suitable job.
Luis F. N. Toronto, Ontario.
February 27 – 2003
Thanks for giving the opportunity to post our resume.
Rabin Man S. Kathmandu, Nepal.