Forum August 2003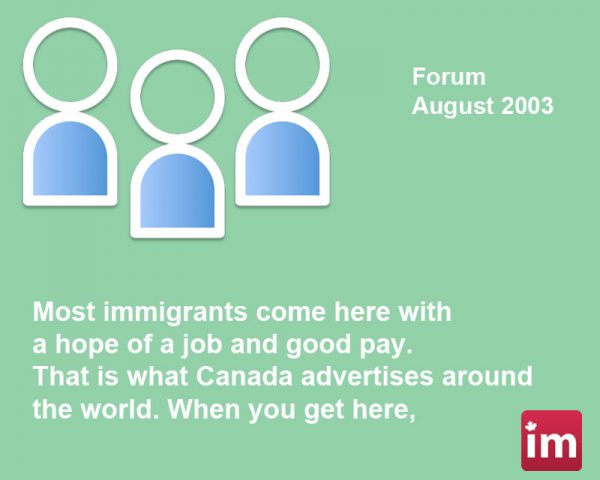 August 1 – 2003
I thought I would respond to Carlos Rejas' remarks in the previous post (July 25/03). Please post the following for me, thanks in advance.
Having lived in Canada for about 30+ years, I can answer this question easily. You have some excellent ideas and spirit Carlos. This is what made this country viable in the first place. The ideas of immigrants, combined with their hard work.
I too have thought very hard about owning and operating my own business. Maybe an online Internet business. However, you have to remember that very few immigrants here in Canada have the contacts and the money to start up and run a business. All the technical knowledge in the world is not going to pay next month's rent or school fees.
Most immigrants come here with a hope of a job and good pay. That is what Canada advertises around the world. When you get here, you discover that everything costs more so the $5.90/hour is meaningless for an engineer, doctor or lawyer. How can you start a business with next to zero dollars? It takes money to make money.
Matt G. Alberta.
August 1 – 2003
I want to start working because I am very clear about the objectives in my life. Otherwise, I won't be able to fulfill those objectives. In Mexico employment is uncertain, and I think I won't get what I want here. That's why I want to work in Canada since I think it is a visionary country, and I would like to embrace that vision.
Francisco J. R. Morelos, Mexico.
August 3 – 2003
I work as a cad-cam programer. I use Mechanical Desktop, Inventor, and HyperMILL to make different kinds of tools to forge hands-tools, pliers, cuttings and other pieces, such as a parts of a agricultural machines.



I have a great experience in mechanizing various types of steels whit different hardnees(40 to 63 HRC). I really hope to work in a civilized country where job, effort and respect to law and people would be a priority.
Hugo M. Argentina.
August 3 – 2003
We want to emigrate to other country in order to have more opportunities for our kids and ourselves.
Leopoldo A. Mendoza, Argentina.
August 3 – 2003
I want to work in administration. I would like to have the opportunity to start working, so employers would see how I work. I have 10-year experience -gained in my country. I live in Montreal. During the past two years I've had various occupations, and I've been learning French.
Matilde P. Montreal, Quebec.
August 4 – 2003
Georgina:
I found your Web site by accident, and I want to make some comments.
First, to me the posted opinions seem very biased. In fact, there are sad and frustrating stories as well as successful and happy stories. I can say that most of the ITESM ex classmates who come to Canada have a well paid job. For many of us, it has not been easy, but there are always methods to reach goals.
Second, before talking about racism in the Canadian labor market, people must know about market structures, philosophy, labor offer, and many things more. The problem is that many people, considered as 3er world country people, absurdly think that Canada will embrace them by putting aside its own people.
Third, to me it seems quite strange that you ask for money (donations), but you don't include a phone number where you can be reached.
I will introduce your website to a Mexican association in Canada, Toronto chapter, in order to help those who face some trouble. Regards,
Leonardo A. H. Ontario.
August 5 – 2003
Hi Leonardo,
Thanks for visiting our Web site and for your comments.
Replying to your inquiries in the same order you sent them,
First, to qualify as biased the opinions posted on our forum is quite irresponsible since you don't know all the information sent to us by our visitors, so you might have enough elements to support your point of view. By the way, all the information is filed for any enquiry. The fact that our visitors write about the difficulties to find a job doesn't prevent successful immigrants -like you- from writing and sending their comments. Why haven't they done that? We do not know, but we take the occasion to invite those qualified immigrants of visible minorities with mainstream jobs to share their experiences.
The second comment is not very clear, but when you say that Canada won't prefer "3er world" immigrants over its people actually, you are accepting the fact that there is systemic racism in Canada. If you carefully check our Perspectives Page, you will verify that many studies made by Canadian universities and institutions; as well as UN support our point of view, so the information is not biased but a hard situation faced by many immigrants in this country. We also invite you to check our tables and charts (based on official figures) that we present on our Statistics Pages, so you will have more elements to analyze this issue.
About our phone number…we think that each organization has the freedom to establish the most suitable mechanisms to contact their clients. In our case, due to the high volume of requests and inquiries, we found that the best way to handle them is by traditional and electronic mail. Both addresses are displayed in every page of our site.
Finally, we appreciate the fact that you will introduce our organization to a Mexican association. We will welcome their assistance in helping immigrants, including myself, to get mainstream jobs. That is exactly what we are looking for.
Regards,
Georgina V.
Director
Canada Immigrant Job Issues
August 7 – 2003
I am from a poor country, Nepal. My main occupation is agriculture and cattle farming. If I get the chance to work in Canada in the mentioned field, I will share my experience with my community which will help a poor and undeveloped country.
Ashok Kumar. Bagmati, Nepal.
August 9 – 2003
I have been trying to look for job in my profession for the past 16 months without any success.
Opoku. Ontario, Canada
August 9 – 2003
I am currently residing in Michigan, but I would like to contact you and know the requirements to work in Canada -and get higher standard of living. Years ago, a man from the Canadian embassy went to my university in Sonora, Mexico to offer possible employment. I do not remember the name, but he said that 200 hrs of French lessons would have been enough to get an opportunity in that country. I would appreciate your information to consider the possibility of studying French and fulfill the requirements. Thanks.
Luis M. Warren, Detroit, Michigan.
August 14 – 2003
Hi there:
I've read the letters you guys posted out there. I totally believe their stories and the problems they're facing when new immigrants try to find a meaningful job based on their education and working experiences they got in their original countries, as I've encountered the difficulties. There're invisible barriers in Canadian job markets for new immigrants, especially for non-white new immigrants. The invisible barriers can only be identified as racism since they can not be defined otherwise by any concrete and meaningful data or standards. The Canadian government should take the responsibility to make a more friendly employment environment for new immigrants. New immigrants still should work hard, and it's the time for Canadian government to do more. Thanks.
Chris B. British Columbia, Canada.
August 18 – 2003
According to the information provided by the News, there are possibilities of working in Quebec City. I have to say that I have a strong interest in working in Canada.
Ricardo V. Santiago, Chile.
August 19 – 2003
I want to emigrate to Canada and get a job that fits my professional background and skills.
Israel H. Queretaro, Mexico.
August 19 – 2003
I have heard that Canada is looking for people to work there, so I would like to be part of that project.
Marco Antonio M. Hermosillo, Sonora, Mexico.
August 19 – 2003
I would like to immigrate to Canada for better job opportunities and standard of living and work on latest technologies in Networking field.
Praful J. Bangalore, India.
August 20 – 2003
I want to work legally, to study and have a successful life. I want to have a respectful home.
Maria B. Richmond, BC
August 20 – 2003
I am looking for intellectual and professional development in a country that has a stable economy and provides economic and cultural stability. I am willing to put all my effort and knowledge in Canada. I want to work and keep studying. I'm available.
Jaime T. Tlaquepaque, Jalisco, Mexico.
August 21 – 2003
Thank you very much for helping people who are looking new horizons.
Victor H. Chile.
August 25 – 2003
I would like to thank for this opportunity. One thing I want say since I came to Canada I was trying to find the right job, but I couldn't find it. Is there any body can help me out? Thanks.
Elizabeth Z. Canada.
August 26 – 2003
I want to emigrate with my family to Canada; however, some things that people comment on this page made me think since I wouldn't like to migrate to a place where the opportunities are not for everybody.
Raul S. R. Merida, Mexico.
August 27 – 2003
I am very glad to find this site; it has really delighted me because it has instilled all sorts of hope in me. I have truly tested the bitterness of being the first generation immigrant in Canada. I graduated from a college with a 2 years diploma of Library and Information Technology, and it has gotten me nowhere. I appreciate if you can help me find a job.
Mohamed A. Calgary, Alberta.
August 27 – 2003
I'm an applicant immigrant to Canada. I applied for migration to Canada from India in October, 2001 and my papers are under process in the Canadian embassy in India. I got my file number and awaiting to get my PR in Canada, so that I'm in search of a job in Canada. Thanks.
Wilson K. India.
August 27 – 2003
I would like to migrate, but looking at this page created me a lot of doubts. Not too long ago, there were some sessions in Santiago on immigration to Quebec. My question is; how good and true is that?
Jose I. F. Concepcion Chile.
August 28 – 2003
This site is a big help to us, people who are seriously looking for a good job in Canada. Keep up the good work! Thank You!
Victor T. V. Philippines.
August 28 – 2003
I am looking for a job related my profession even volunteer job. Salary is not important.
Fred K. Canada.
August 28 – 2003
Thanks for the opportunity to participate within serious sites, and for opening new expectations to immigrants.
Sergio A. Chile.
August 29 – 2003
I would be very happy if I lived in your country. I wish to be part of the Canadian labour, live under strict regulations, work hard, and respect my fellowship and the country that gives me a hand. Thanks and best regards,
Bui Kim T. Vietnam.
August 31 – 2003
I am interested in writing short stories about migration/ racism to Canada. I am a Canadian citizen and have been since I was born. My husband, on the other hand, is unfortunately Jamaican. We are having a very hard time trying to get him to come for a visit. He has little money and the fact that he is Jamaican is holding him back. He does not have a criminal record and I myself am an outstanding middle class working citizen without convictions of any kind. I find the whole policy discriminating. I would like to write about it in more detail. Your response would be greatly appreciated. Thanks, Sincerely,
Mrs. Sheri B. Canada.