Forum August 2002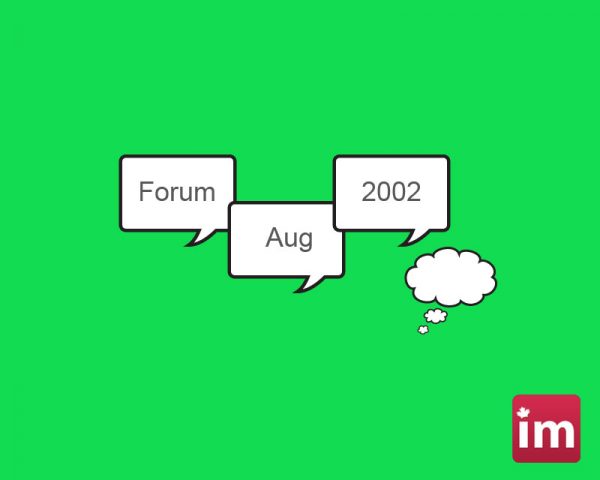 August 2 – 2002
I have heard of Canada and that's why I would like to relocate to that place. Hope to contribute from my side for the betterment of Canadian Revenue.
George Jacob. Bangalore, India.
August 2 – 2002
I am a researcher devoted to bat research and preservation. I have some publications in English, and I would like to live in Canada to help preserve its natural resources.
Carlos M. Jimenez A. Villahermosa, Tabasco, Mexico.
August 4 – 2002
What a surprise it was to find this site! I am still impressed… I am looking for a way to express my experiences. Even more, I thought of creating a site where the migration reality were showed. I am from Cuba, and I have lived in Canada for 4 years (To me, this period has seemed like 24… the 20 of Gardel, and 4 of hopeless searching. I would like to contact you. My story is long. As my husband says "You have the same story, and nobody listens to you" I hope you do it in order to liberate this emotional charge and to help others.
Mayra Reyes. Canada.
August 10 – 2002
I have 17 years experience in voice doubling and locution. As an actor I have doubled the voices of "Brandon" (Beverly Hills 90210); The Fugitive, the series; Tim Dally Rob Lowe (West Wing); Protagonist (Special Squadron 2); Brad Pitt (Interview with the vampire); Kalifornia; 7 years in Tibet, Ocean's eleven, and more. As a doubling director, I have directed: The Sopranos, West Wing, Rupert, North of 60, Bug's Life, Tarzan, Pearl Harbour, Atlantis, The Emperor's New Groove, Max Keable, The princess diary, Monsters Inc. Spy Kids, Return to Never Land, Lilo & Stitch, Snow dogs, and advertisement. I have a very good job here in Mexico, but I truly want to live in that beautiful country. Thanks.
Ricardo Tejedo. Mexico.
August 13 – 2002
I have been looking for a job with a Canadian company for a long time. Even more, once an unscrupulous person published an ad -offering jobs- in a national newspaper. I subscribed myself, and the cost of that mistake was US$500.00.
I am fine here in Chile, but I am very interested in getting to know other realities. I have some relatives in Canada, and for some other reasons I have found that country too attractive.
Jaime Lampe. Chile.
August 14 – 2002
I am glad that there is such a website such as this where foreigners like us can have the chance to offer our services for an opportunity to migrate to Canada, to live and work there. I just hope that I can find an employer who will hire me as physician assistant so that I will be able to bring my family along with me and establish my roots in Canada for my children's sake, because I understand that they will be better off in Canada than here in the Philippines. Thanks for this opportunity.
Majonah Garcia. Philippines.
August 14 – 2002
Thank you for this opportunity that I was able to offer my services to a foreign employer who will hire me. More power.
Arnel. Philippines.
August 18 – 2002
Well after landing in Canada, it is impossible to get the job of one's Profession because employers do not recognize the foreign qualifications and experience as well. Unless one gains Canadian degrees & experience, it is a just a survival on odd jobs, paid hourly basis, and that too, are difficult to come by. The alternative approach is to get a LICENSE (only for Engineers) to practice your profession, which confirms to the employer and blesses on you, both the Canadian qualifications as well as experience. So, I went for this about two years back, and now my issue of License is in advanced stage, which is a ray of hope to get suitable job in the field of study/profession. I am positive about it, and hopeful. Yet, I am proud to make CANADA my HOME.
Mohammed Lateefuddin. Toronto, Canada.
August 23 – 2002
I have worked for government radio and for the most important TV broadcasters in my country (Televisa and TV Azteca). I have written in several Mexican magazines and published a book. I won a national award in narrative. Due to the economic slow down in Mexico, the productions in which I was working were finished. That's why I am looking for an opportunity to continue my work in order to keep my pride and self respect, which are based on the acknowledgment of a job well done.
Ernesto Gerardo Lopez Romo. Mexico, D.F.
August 23 – 2002
The current economic and moral crisis in my country, Peru, has made me think about the future of my family. Due to the comments of some people I have considered Canada as a very good alternative to raise my two kids -8 and 4 years old.
José Antonio Mendizabal. Arequipa, Peru.
August 24 – 2002
I am 29 years old, and I worked for the US government in the maintenance and operation of a water treatment plant in the Howard Base. There are few jobs related to my profession in Panama. I love natural environment, but currently ecology is not respected in my country. That's why I would like to apply my knowledge in a country that appreciate and value my skills.
Oriel Alexander Lay. Panama.
August 26 – 2002
I am working as a mechanic for an important mining company. I give maintenance to heavy equipment for quarries. I design and make industrial equipment. I have no professional certificates, but I have 20 years of experience.
Roberto Cesar Martinez. USA.
August 27 – 2002
Well, thanks for this opportunity. Even though I might not get a job, I want to thank you again. I think this site is very good. Keep it up! I want to go to Canada and learn English -which I speak in about 60%. I am married and I have 2 kids.
Jorge Armando Lopez. Chihahua, Mexico.
August 29 – 2002
I am coming to Canada on 14th of September under permanent immigrant visa. I worked for 12 yrs & 7 months as a chemist in Ranbaxy Labs Ltd., a multinational company in India. I am graduate (B.Sc.) from Punjab-India. My field of working is GC/HPLC, Validations etc.
Jagdeep. India.
August 31 – 2002
Spanish man, 44 years old, post graduated economist, treasurer of 7 AA.PP, good at Informatics & languages (polyglot). I want a country in progress, modern and well organized. I want to work hard, to have a family, to have lots of kids, to travel to Spain (to visit my family and friends), and to explore new worlds. I am very hard working, extraordinarily punctual. I work by projects not per hours. I want to expand my knowledge and skills in a modern and competitive company. I love business trips. I want to convince employers and everybody. I want to live preferably in Quebec, or other city of Canada.
Josep Cardo Serramia. Barcelona, Spain.