Forum April 2003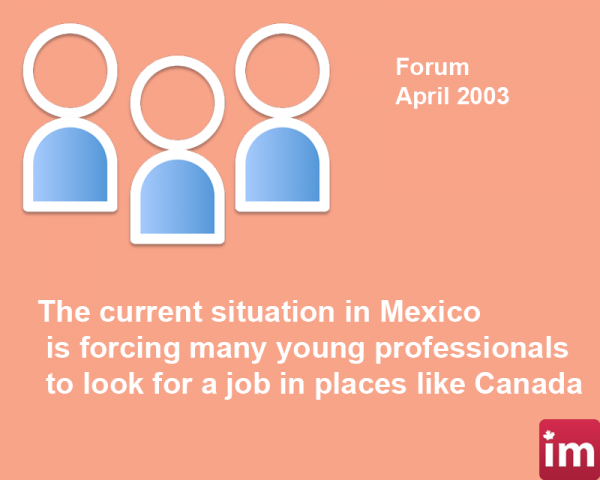 April 1 – 2003
Hello,
Once again, congratulations for the good job!
I would like to add the following: this concerns to those that are Canadian-born or whatever they have deep feelings about Canada. I (and most of us) do not bash your country; what we are criticizing is the behaviour of your government, that cheats all the way until immigrants put their feet (and money) in Canada. They even tour U.S. universities trying to get graduates interested in immigrating to Canada (and they know there are no jobs for them) This must be a warning for you that keeps Canada well close to your heart; your political elites are spoiling your country, and if you are not aware of that, your life or that of your descendants will suffer in the future.
That's all I have to say. Good luck for you all!
Gabriel -from U.S.A.
April 6 – 2003
Hi, I first want to say this is a wonderful website you have. It is very hard to find an employer in Canada while you are still a Citizen of the USA. My landed status is in for processing, but they tell me I need a job offer, and that my 17 years of experience in this field does not matter if I do not have a job offer. I have looked everywhere and then a friend of my fiance told me about this site. I once again want to tell you how wonderful it is. Having people out there that understand how hard it is to find a job when permanent status is still not fully processed. I really hope you can help me. I have been searching for answers for 2 years. Thank you ahead for your help. I am willing to take any job offer in my field that you may have available. Thank you again.
Jodi-Lyn S. H. Ontario, Canada.
April 9 – 2003
First of all, thanks to the people of organizations like this one for the opportunity to post our resumes. The current situation in Mexico is forcing many young professionals to look for a job in places like Canada – A North American country that has more opportunities, and it opens his doors to Hispanic people by helping us build our future, and giving us the opportunity to contribute to the development and progress of Canada. Thanks.
Rafael Ricardo M. Tula de Allende, Hidalgo, Mexico.
April 10 – 2003
This web page is a nice service to humanity, particularly in the current world that is mainly profit driven. I hope to get a challenging job through you.
Linus Joseph. Abuja, Nigeria.
April 12 – 2003
Despite having very competitive qualifications which are recognized by Canadian University, the Canadian employers are showing very immature and unprofessional attitude and are not responsive to the qualifications. On the contrary, lot of labour jobs are available for which professionals are unfit. This picture must change.
J. Gangakhedkar. Ontario, Canada.
April 17 – 2003
I just wish more chances to be given to immigrants who do not have Canadian experience. We need to start somewhere so we can bulid up that experience requried. Thank you.
Aster B. Ontario, Canada.
April 18 – 2003
Approached all the Nuclear related companies. All are asking Canadian experience. The codes and standards used in North America for Nuclear Reactor are used in India also. Only slight change may be expected. I assure that my 20 years experience in Nuclear field will definitely help in doing work in my field without difficulty.
K. Athiannan. Ontario, Canada.
April 20 – 2003
I am working in Foundation Gas and I applied for Canadian Immigration in Oct. 2000 and waiting for my interview, if I get job offer from Canada that should be better for my case. However, I will receive 10 more points. Furthermore I am very thankful to all of personal of website team.
Syed Talat. Karachi, Pakistan.
April 26 – 2003
I was working in the PC Technology Industry, and I was fired due to a restructuring process. I believe this is an opportunity to grow up in many ways, and I think Canada is the best option.
Alejandro I. Z. Mexico, D.F.
April 29 – 2003
Hi,
I have got the immigration visa for Canada. But, I haven't crossed the border yet. I am currently in USA having a full time job (unbelievable in this job market isn't it?).
After reading comments from other immigrants on your website, it horrified me about the idea of actually coming to Canada. Is the job market in Canada that bad? Why are those who got decent jobs in Canada not coming forward? I know at least 2 out of 3 persons whom I know, have got decent job in their field.
Thanks and regards,
H. Trivedi. USA
April 30 – 2003
I am a very hard working person. Indeed, to me Canada is one of the countries that I admire because of their democratic system. I hope I get a job opportunity in a hydroponics company.
Salome C. P. Pabellon Aguascalientes, Mexico.