Canada's Population by Province -2016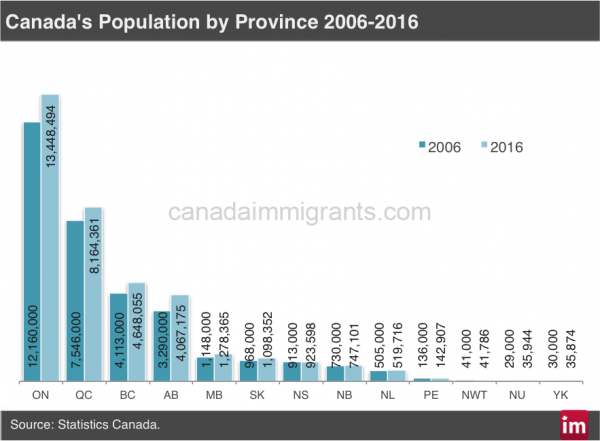 According to the 2016 Census, Canada's population reached 35,151,728 –an increase of 3,538,728 people over 2006.
Over the last decade, Canada's population grew by 1.1% per year. In fact, all provinces and territories saw population increases.




During this period, Alberta and Nunavut saw the largest annual population increase of 2.4%, followed by the Yukon (2%), British Columbia and Saskatchewan (1.3% each).
The provinces and territories with the lowest annual population increases were Nova Scotia (0.1%) followed by New Brunswick and the Northwest Territories (0.2% each).
In 2006, 75.3% of Canada's population lived in Ontario (38.5%), Quebec (23.9%) and British Columbia (13%). In 2016, this percentage decreased to 74.7% as follows: Quebec's population share decreased to 23.2%, Ontario's decreased to 38.3% and British Columbia's increased to 13.2%.
WATCH VIDEO