Canada International Students by Province – 2016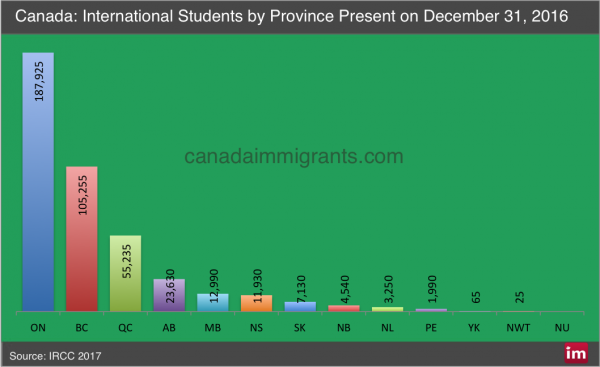 On December 31, 2016, 414,285 international students (study permit holders) were present in Canada –an increase of 18% compared to the previous year.
In 2016, the largest percentage of international students chose Ontario as their destination (45.4%), followed by British Columbia (25.4%) and Quebec (13.3%). In other words, 84% of international students chose these provinces as their destination in Canada.






From 2015 to 2016, the number of international students increased 24% in Ontario, 11% in British Columbia and in Quebec.
The economic benefits that this immigration class brings to Canada are extraordinaire. In 2016, Global Affairs Canada reported the following:
In 2014, international students in Canada spent around $11.4 billion on tuition, accommodation, and discretionary spending." (See table below)
The amount of overall annual spending by international students translates to 122,700 jobs (equivalent to 104,100 Full Time Employment) supported in the Canadian economy.
Summary – Table I – Number of International Students and Total Annual Spending in Canada, by Province and Territory ($million)
All Students
Total Annual Spending($millions)
Newfoundland and Labrador
2,261
$48.20
Prince Edward Island
1,356
$37.50
Nova Scotia
11,892
$324.50
New Brunswick
4,154
$115.70
Quebec
55,369
$1,516.60
Ontario
187,589
$5,408.10
Manitoba
8,385
$220.80
Saskatchewan
6,408
$151.00
Alberta
23,227
$567.70
British Columbia
137,446
$2,980.60
Yukon
29
$0.50
Northwest Territories
35
$0.60
Nunavut
4
$0.00
Canada
438,157
$11,371.90
Source:
Related articles: