Canada International Mobility Program by Province – 2016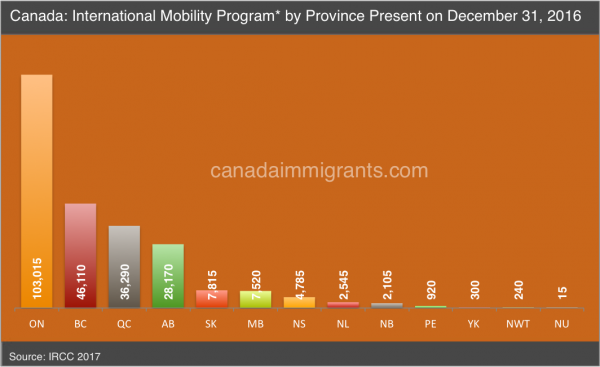 On December 31st, 2016, there were 288,895 *International Mobility Program (IMP) work permit holders and 51,400 temporary foreign workers (TFWs) in Canada. In other words, there were 5.6 IMPs for every TFW.




In 2016, Ontario (36%), British Columbia (16%) and Quebec (13%) were the top destinations for IMP work permit holders.
The same year, Ontario was also the top destination for IMP work permit holders (31%), followed by British Columbia (23%) and Alberta (21%).
The following table shows the number of work permit holder who came to Canad under the International Mobility Program in 2016.
Canada – International Mobility Program (IMP) work permit holders on December 31st by program – 2016

Program

Non-Trade
1,035
North American Free Trade Agreement (NAFTA)
21,630
Other Free Trade Agreement (FTA)
1,025
General Agreement on Trade in Services (GATS) Professional
100
Canada-International Total
23,810
Provincial/Territorial – International
350
Canada – Provincial/Territorial
11,415
Other Agreements
30
AGREEMENTS TOTAL
35,615
Significant benefit – general
4,460
Entrepreneur/self-employed
435
Intra-company transfers
18,325
Emergency repairs
105
Significant benefit Total
23,350
International Experience Canada (IEC)
23,280
Exchange Professors, Visiting Lecturers
1,485
Reciprocal Employment – Other
3,930
Reciprocal Employment Total
28,705
Research, educational or training programs
370
Spouses of skilled workers
28,085
Spouses of students
12,495
Post-grad employment
101,590
Post-doctoral Ph.D. fellows and award recipients
4,925
Medical residents and fellows
2,325
Competitiveness and public policy Total
149,725
Charitable or religious work
2,280
CANADIAN INTERESTS TOTAL
204,140
OTHER IMP WORK PERMIT HOLDERS
49,125
TOTAL
288,895
Source: IRCC
Note:
The majority of permit holders who come under the IMP are exempt from requiring a Labour Market Impact Assessment: they come with open work permits that allow them to work for any employer anywhere in Canada.