The Benefits of International Students to Canada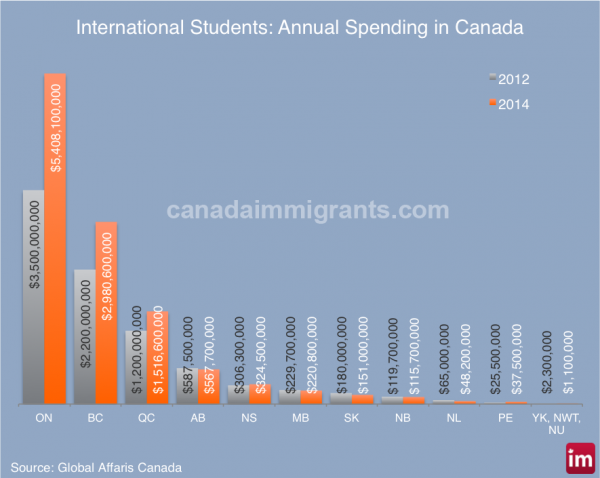 On December 1st 2015, 356,574 international students were present in Canada –an increase of 191% compared with December 1st 2000.
In 2015, international students came from more than 185 countries. The top three source countries* were China (120,339 or 33.7%), India (48,914 or 13.7%) and France (20,218 or 5.7%) and together accounted for 53.1% of the total of the international students.




Canada's economy continues benefiting enormously from international students. Global Affairs Canada reported that these students spent a total of $8.4 billion in Canada in 2012, and supported 86,570 jobs in 2010.
More recently, the government of Canada released new estimates for the year 2014, in which they reported that international students contributed almost $11.4 billion to Canada and supported 122,700 Canadian jobs.
Compared to 2012, Canada reported a 35% increase in international students' contributions in 2014, and the following provinces received the highest increases Ontario (55%), Prince Edward Island (47%), and British Columbia (35%).
On the contrary, in 2014, Newfoundland and Labrador (26%) and Saskatchewan (16%) registered significant revenue decreases from international students compared to 2012.
Of the annual total spending by international students, long-term international students accounted for 92% and the rest came from international students enrolled in short-term language
 training programs.
*2015 ranking
Source:
Related articles: